"Shadow War" Part Two – "Too Many #%^&$#@ Ninjas."
Writer: Joshua Williamson 
Artists: Howard Porter & Trevor Hairsine
Color Artists: Tomeu Morey & Rain Beredo
Letterers: Clayton Cowles & Willie Schubert
Review by Max Byrne
Batman #122 picks up the pieces from the explosive assassination of Ra's al Ghul in Shadow War Alpha #1. Now all-out war has now ensued between the forces of Deathstroke Inc. and The League of Shadows.
We as readers are fully aware that Slade Wilson has been framed for the heinous actions undertaken by an impostor, but the true intrigue lies in who could possibly be behind it all? I have my theories but, for now, let's sit back and allow Joshua Williamson to tell his story at his own, expertly crafted pace.
With so many different moving parts to accommodate, there's a real danger that this arc could end up being extremely overcrowded but Williamson manages to give each faction enough pages to do them justice, and never at the expense of pushing the overall narrative along.
We certainly get equal time with Batman, Deathstroke, and the wonderfully violent ballet of the aforementioned clash between the two rival heel factions. Yes, this is a Batman comic, but Williamson serves the story first rather than solely pushing on the journey of the titular character.
Ever the detective, Batman's trying to piece together the identity of the true perpetrator here. All roads lead to Talia, given her track record of duplicity over many years. The confrontation between the two characters is beautifully written, as the history between these enemies/lovers/co-parents weighs very heavy indeed.
Based on how the situation escalates into an ending that's surprisingly tender, the next few issues should be very interesting indeed. I have always enjoyed it when Bruce's steely exterior melts away into something more human, so hats off to Williamson for crafting this in such a tasteful manner.
The artwork in this issue is a joy to behold. Howard Porter's work has always been highly appealing to me and he certainly brings his very best work to the table here. The level of detail, depth, and character in his panels is mind-blowing. A prime example of this is a wonderful double splash page that depicts the clash between the opposing villainous forces. It's an amazing undertaking; the chaos, violence, brutality, and skill on show are so eye-catching that it simply demands the readers' attention. I certainly hope that Porter gets a long run on this title, as he's stepped into the enormous shoes of Jorge Molina with consummate ease.
Williamson also provides a fun bonus story, depicting the first encounter between Batman and Deathstroke, when Mr. Wilson was in town to collect a bounty on the head of Robin. Although brief, this is a fast-paced, action-packed story that ends with one hell of a cliffhanger. Don't just take my word for it, go and seek it out!
Conclusion
Batman #122 is a great issue in terms of moving the story along. Less chaotic than its predecessor, it moves the characters into intriguing new places. Bruce and Talia are seemingly on the same page (and romantically reunited?), Slade's on the run, Damian's on the hunt, and the faux Deathstroke has yet to be revealed. Events are coming to the boil very nicely indeed.
To be continued in Deathstroke Inc. #8.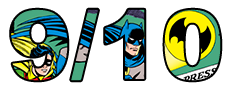 Images Courtesy of DC Entertainment