"Zero Point" – Part Four
Writer: Christos Gage
Artist: Christian Duce
Color Artist: John Kalisz
Letterer: AndWorld Design
Review by Philip Clark
Batman/Fortnite: Zero Point #4. What can I say about this issue that doesn't give anything away? It's every as good as its predecessors, and it adds to the mystery and intrigue that the three previous issues have alluded to so far.
This comic is a glorious representation of two of my favorite things; comics and video games. It gives a beautiful look at the puzzle-game genre, by trying to figure out things on the fly while adding in the flowing story of a comic.
Holy Lore Dump Batman!
Well, well, well. I thought we got a peek behind the curtain in the last issue… boy was I wrong! The lore dump we get this time blows the last issue out of the water.
We're introduced to a lot more named characters in this issue, including Deathstroke. Our Caped Crusader is also reunited with Catwoman after her escape, along with others that have managed to get out of The Loop, but who are now trapped by something else… or perhaps even someone else.
The group immediately band together to try and find some sort of an escape, with Batman taking the lead. Able to talk now, the Dark Knight starts barking out orders. When the others question his right to lead, Batman throws them quite possibly the most Batman look of all time.
With the Bat in charge, the group starts making some headway to finding a way out of the hellhole they've been dragged into. That is until, of course, we're left with yet another cliffhanger.
Conclusion
Well, I'm actually at a little bit of a loss for words here. I mean, I don't want to give anything away so I'll say this. Christos Gage is doing a mind bendingly good job with this series. It's only getting stronger and stronger with each issue.
The artwork this issue is by Christian Duce and John Kalisz and, even though it's by a different line artist from issues #1-#3, it's phenomenal. Each of the character designs is so unique, yet immediately recognizable to those that have played Fortnite. It's not just the character artwork though, the background setting of the island truly makes you feel like you're there. The feeling of immersion is very similar to that felt when playing the video game itself.
I will say this. Gage, if you're reading this… enough with the cliffhangers already!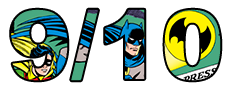 Images Courtesy of DC Entertainment