Writer: Tom Taylor
Artists: Bruno Redondo, Caio Filipe, Geraldo Borges
Color Artist: Adriano Lucas
Wes Abbott: Letterer
Review by Steve J. Ray
The countdown to the milestone centenary edition begins in Nightwing #97. Blockbuster is dead and the criminal underworld is in a state of upheaval, leaving Dick Grayson and Barbara Gordon with a real fight on their hands.
I've been saying this for close to a year and a half now, but, as it's till 100% percent accurate, I'll keep repeating it until the quality lapses (doubtful). This series rules! Tom Taylor, Bruno Redondo, and the gang are creating a superhero book that has become an instant classic. This is a title that's fantastic to read, and stunning to look at, month in and month out. This issue ranks among the best of the best.
The humor is perfectly balanced by the tension, and the romance and characterization flawlessly flow with the thrills and action. There's conflagration, love and lambast galore in these pages… and it's seamless. The laughs flow, and don't feel shoe-horned in, and the quiet moments brilliantly allow the readers' nerves to settle before the next shock.
The art, while not handled by one artist, still works and flows. Bruno and Caio beautifully open and close the book, Geraldo gives us a ton of action in the middle, and Adriano makes the transition painless (for the readers, at least, if not for the characters). Wes Abbott, as always, is also having a whale of a time, putting Tom's incomparable dialogue and some great sound effects on these sublime pages.
Honestly this book rarely gives me anything to complain about… though I'm positive that the final pages will cause more than a few comments over the coming weeks. Wow, talk about twist in the tale?!?
Conclusion
Nightwing #97 delivers gangsters, motorbikes, explosions, the flames of danger (and of passion) all in one gorgeous package. I honestly feel that the run up to the blockbuster finale (sorry, Mr. Desmond. Rest In Pieces) is turning up the dial, and the cliffhanger for this issue left me reeling.
I've said it before, and I'll say it again… BUY THIS COMIC!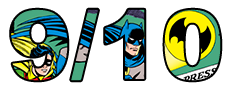 Images Courtesy of DC Entertainment