DC Comics has announced new series starring Punchline, the Gotham Police, and the Joker.
'Punchline: The Gotham Game'
At San Diego Comic Con, writer Catwoman and Batman: Urban Legends writer Tini Howard revealed that she will be writing an all-new new limited series starring Punchline. The series is six issues long and titled Punchline: The Gotham Game. It will follow up with the 'The Trial of Alexis Kaye' backup story from the recently-concluded Joker series. Now out of prison, Punchline's trying to become the the head of Gotham crime. She will be aided by the Royal Flush Gang.
Howard and her husband Blake will write and Gleb Melnikov will provide the art. The first issue will hit comic shops October 25.
'The Joker: The Man Who Stopped Laughing'
Speaking of the Joker, he will star in a new ongoing series titled The Joker: The Man Who Stopped Laughing. Matthew Rosenberg and Carmine di Giandomenico will write and draw it respectively. The new series will continue wherethe previous Joker series ended. The Joker closed with the villain escaping Jim Gordon, free to travel wherever. The new series will feature his travels across the country and, naturally, chaos will ensue.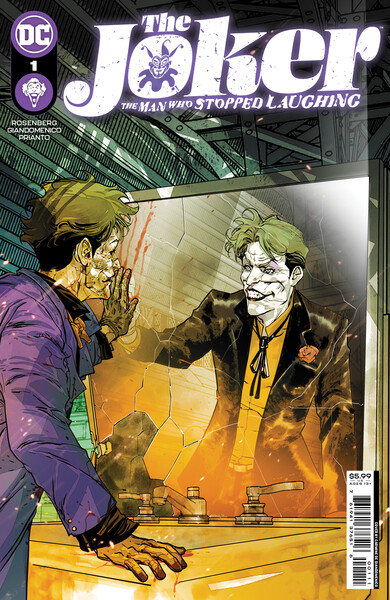 Additionally the title will also feature a backup story with art by Francesco Francavilla. There aren't many details about it other than it features the Joker and Mirror Master. The Joker: The Man Who Stopped Laughing will be released on October 4. 
'GCPD: The Blue Wall'
Finally, SDCC announced a Gotham Police Department mini-series titled GCPD: The Blue Wall. John Ridley will write and  Stefano Raffaele will be handling the art. The story will focus on Renee Montoya as the acting police commissioner. Given how the Gotham police have failed so often, Montoya will attempt to reform the GCPD and it's public image. The series promises to be a gritty, realistic look at the police force that just happens to protect a city that's home to super-powered criminals.
The series will launch in October 18.
Source: DCcomics.com
Images may be subject to copyright