From Tim Burton's Batman in 1989 to Christopher Nolan's The Dark Knight in 2008, special effects makeup has been used to bring various characters to life. In this third and final part in my series looking at the makeup effects used in the Batman movies, I will be taking a look at the makeup effects used in Christopher Nolan's The Dark Knight Trilogy, and will also take a brief look at some of the characters from Suicide Squad (2016) and Colin Farrell's The Penguin from the upcoming The Batman.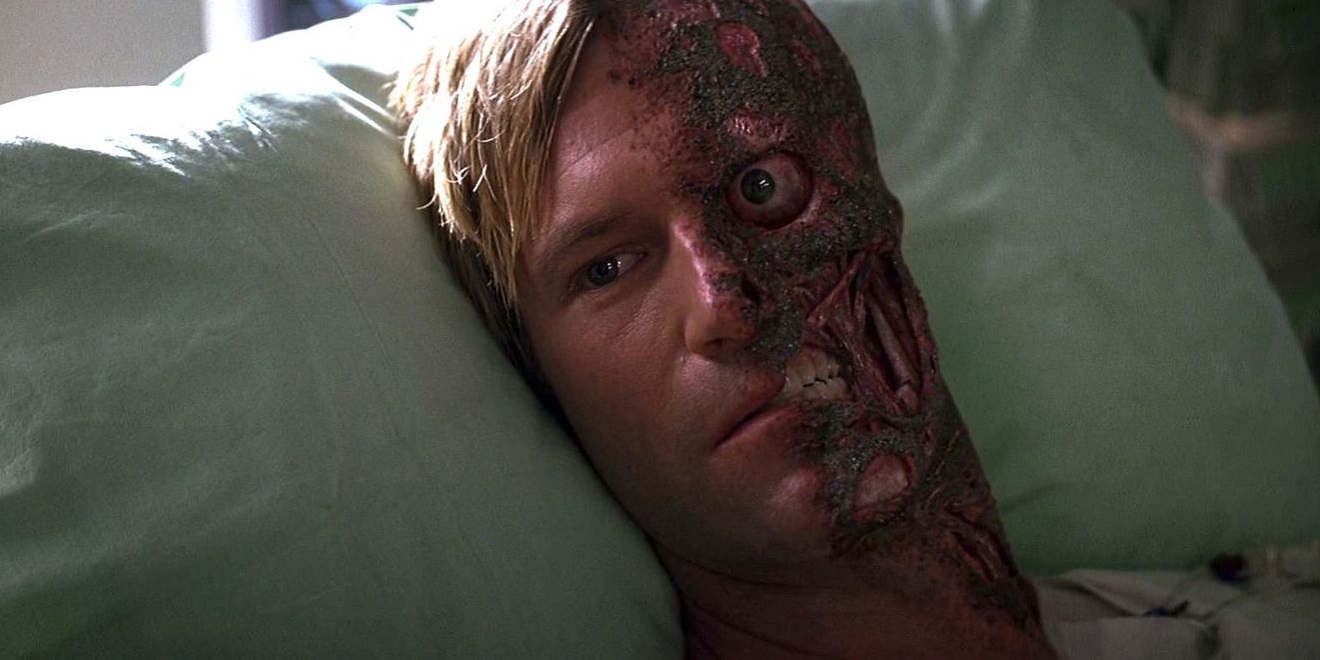 For Two-Face in The Dark Knight, Christopher Nolan opted not to use traditional makeup methods for his Batman movies, and instead decided to break new ground.
Visual Effects Supervisor Nick Davis:
This character was one of our major VFX challenges. Chris was not interested in going the traditional make-up route. He felt that it would be an additive effect, rather than the subtractive effect that he felt the character required. So, instead of adding a layer of material to the actor's skin, we actually removed the skin digitally. It allowed us to reveal the tendons, the cheeks, the eyeballs and to create unique textures. The challenge here was that we were dealing with one of the main characters and that the digital make-up would be seen in full close-up, including dialogue scenes.
Robb-King and Nick Davis worked on the make-up for Harvey Dent's devastated face, first rendering it on paper, then with clay sculptures, and finally through the use of computer graphics, which elaborated the various sensors placed on the face of the actor, Aaron Eckhart.
Although the final effect is fairly impressive, as a trained makeup artist I personally don't agree with CGI being referred to as makeup and believe that a better look could have been created using traditional makeup methods. I also prefer the version of Two-Face that was created by Rick Baker for Tommy Lee Jones in Batman Forever. This is, however, just my personal opinion and I'm sure that many people would disagree.
Heath Ledger gets most of the credit for reinventing The Joker with his performance in the 2008 film The Dark Knight,  but creating a look for the character that diverged from the comic books was a collaborative process, Makeup artist John Caglione Jr. played an essential role. Caglione wanted to give The Joker an organic appearance that matched director Christopher Nolan's realistic take on Gotham City and a crazed style that reflected the character's unpredictable nature.
John Caglione:
What would it be if this guy slept in his makeup? If he didn't spruce up his makeup for two weeks? You think of a clown's makeup and for the most part, they're pretty detailed with sharp lines, but this had to be the opposite of that.
Caglione worked with Ledger to scrunch and contort his face as he applied the makeup – an old trick borrowed from theater. This method resulted in lines and creases in the paint that made it look like the character had been wearing his makeup for days.
When Caglione joined the production, Ledger was already signed on to play the iconic villain. The makeup designer's earliest meetings were with the actor, director, and costume designer Lindy Hemming, followed by Caglione creating five or six color sketches as overlays of headshots of Ledger complete with green hair, different kinds of clown makeup, scars, and so on. This was followed by some makeup tests with Ledger in London.
In an interview for Dark Knight News, costume designer Lindy Hemming gave some more insight into the design process for The Joker's makeup and why it had to be totally unique.
Lindy Hemming:
It was a nightmare! Because this was a film with an international audience, we had to do some extensive research and follow some strict, and bizarre guidelines. Professional clowns must choose a unique facial makeup design, and they have an unusual way of "protecting" it from copycats.

We could NOT use any design already in existence and had to create new masks/makeup that had NEVER been used before. There are several registries, worldwide, with clowns' faces painted on eggs.

If ours were not totally new and unique, we wouldn't have been able to use them.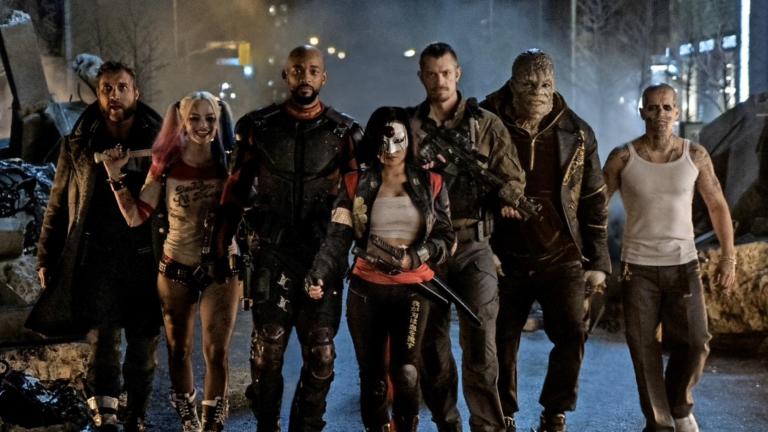 Although it's not technically one of the Batman movies, I have decided to include David Ayer's Suicide Squad because it does have some amazing makeup looks and effects. The Dark Knight does make several appearances in the film, after all.
To bring the team's characters to life David Ayer hired makeup and hair designer Alessandro Bertolazzi, whom he had already worked with on several projects. This was, for the most part, the most intimidating challenge of his three-decade career: making over the Joker, a pop culture icon, for Suicide Squad.
In order to portray The Joker, Jared Leto went through quite a radical transformation. He had his ponytail cut off, his facial hair shaved and he even shaved off his own eyebrows. At first the makeup for The Joker doesn't seem that complicated but it it was actually quite complex and took three hours a day.
Of the three-hour transformation, Bertolazzi said:
We started painting in the face and doing the skin, because the Joker's skin is the most important. We did six or seven layers of makeup, because I wanted it to look really dirty and really sick – with the pale skin, the veins, and a wound. This is a guy who hasn't ever taken a shower.
As well as Suicide Squad, Leto's Joker also made an appearance in the 2021 movie Zack Snyder's Justice League. The Joker in Justice League had a much more disheveled look to him with longer hair. His makeup is messier and for some reason, his Damaged and J tattoos that he had in the first movie are notably absent.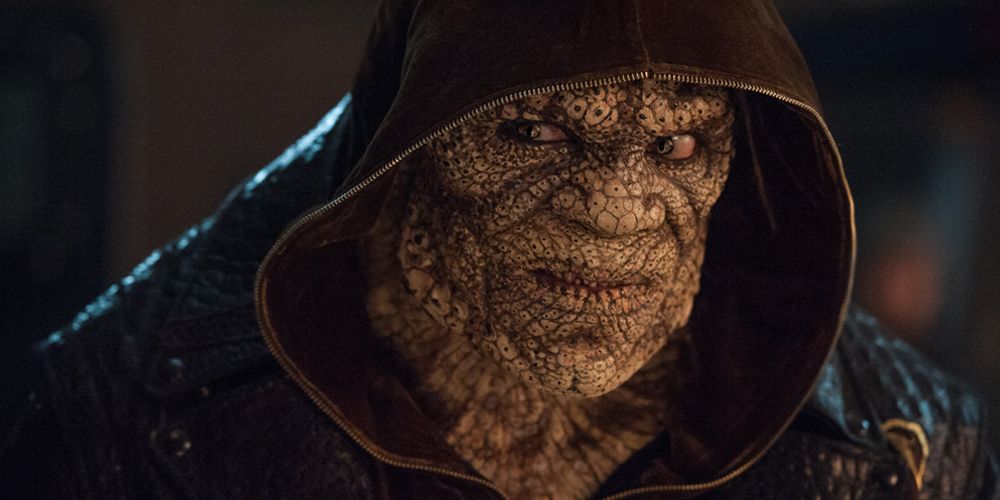 Probably the most amazing transformation in Suicide Squad is that of actor Adewale Akinnuoye-Agbaje into the character Killer Croc.
Although it may look like CGI it is actually all makeup and it is virtually impossible to recognize the actor, as he was buried under layers of latex.  The head and shoulders are prosthetics that were glued onto the face and then the body was painted with crocodile-like scales. It took roughly five hours to do each day.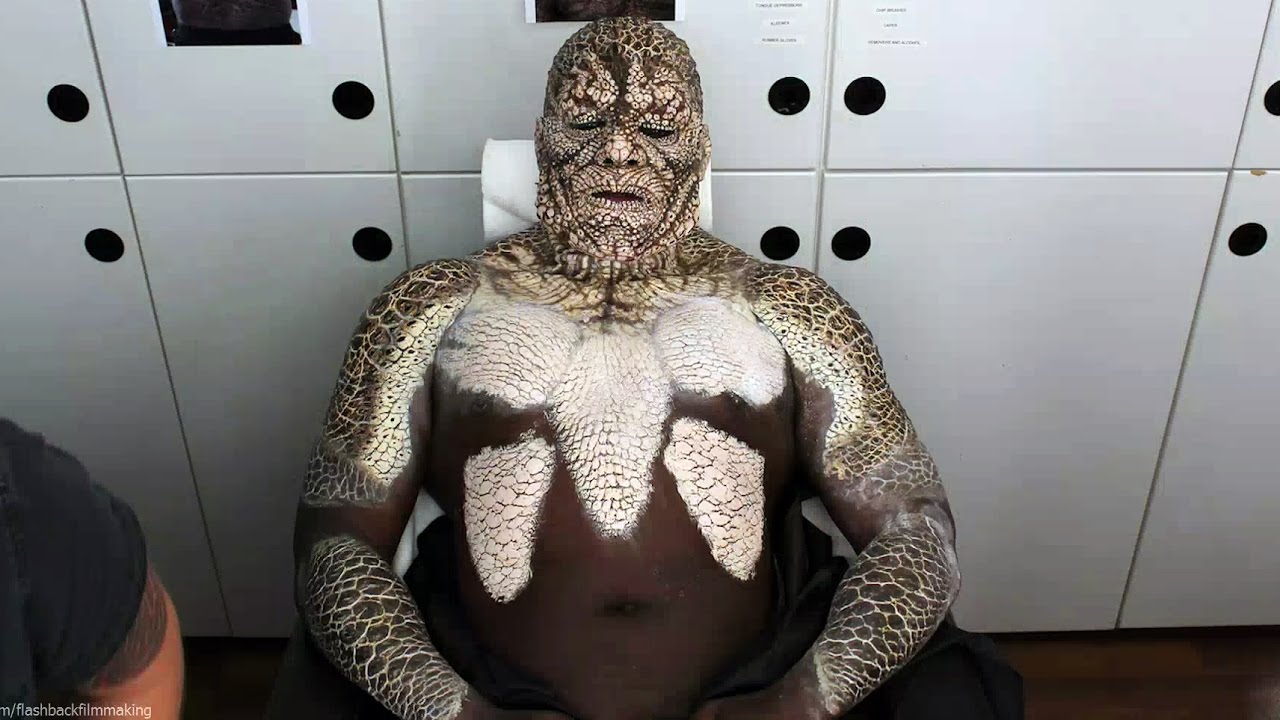 For El Diablo, played by the actor Jay Hernandez, a significant number of temporary tattoos were designed and made by tattoo artist Rob Coutts and then applied to his face and body by makeup and hair designer Alessandro Bertolazzi. Hernandez also shaved his eyebrows for his role, since his character was designed to have no hair on his body.
For Hernandez, the choice saved him half an hour a day in the make-up chair. Rob Coutts designed and made all of the tattoos that are seen in the movie, not just for El Diablo but also for The Joker, Enchantress, and Harley Quinn. Shortly after the movie's release director David Ayer tweeted a picture of early concept art for El Diablo's tattoos, which can be seen below.
For her role as Harley Quinn, Margot Robbie spent over three hours in the make-up chair to be transformed. She had to have her skin painted white, have twenty temporary tattoos applied, and then have Harley Quinn's wig attached to her scalp.
The makeup for Harley Quinn was a huge hit almost instantly and has been recreated by hundreds of thousands of fans worldwide since the movie's release in 2016. It has also inspired makeup ranges from various cosmetics companies and there are hundreds of makeup tutorials on YouTube showing people how to do the makeup themselves.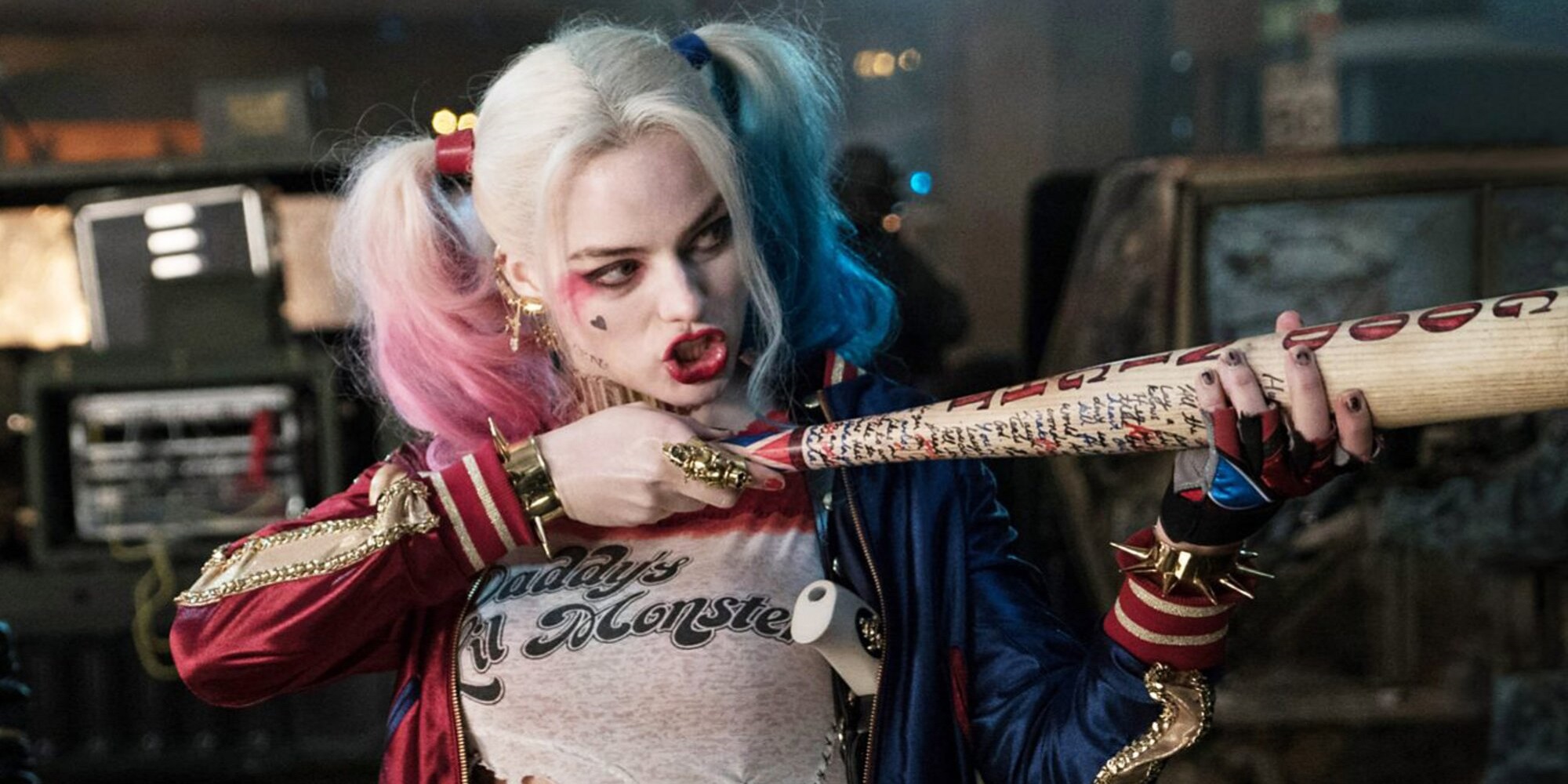 In 2017 at the 89th Academy Awards Alessandro Bertolazzi won the Oscar for Best Makeup and Hairstyling for his amazing work on Suicide Squad.
For the upcoming Matt Reeves movie The Batman, Oswald Cobblepot AKA The Penguin is played by the actor Colin Farrell, although it's incredibly hard to believe, as there's no resemblance whatsoever. Farrell's remarkable transformation was made possible by prosthetic makeup effects designer Mike Marino. With his thinning black hair, scarred and pockmarked skin, and false nose Colin Farrell is almost unrecognizable. I did write a previous post about the appearance of Farrell's Penguin, which you can find here.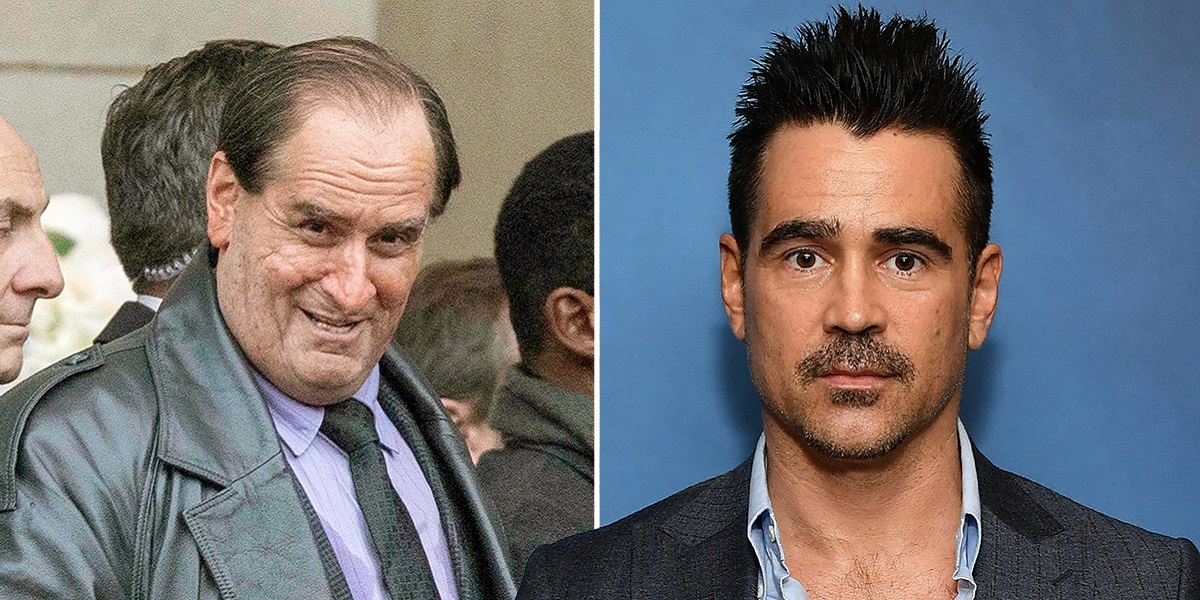 Obviously, I'm extremely passionate about makeup and I have thoroughly enjoyed taking a look at some of the effects used in the Batman movies across these three articles. I really hope that people enjoy reading these pieces as much as I enjoyed writing them.
Images and video content may be subject to copyright