"One Way or Another" – Part Two
Writers: Becky Cloonan & Michael W. Conrad
Artist: Jorge Corona
Color Artist: Sarah Stern
Letterer: Becca Carey
Review by Fay Clark
It's finally here, the long-awaited Batgirls #2. I don't know about anyone else, but the highlight of my week is catching up with my girls. After an explosive first issue, we get to jump right back in where we left off.
No One Tell Babs
To be a Batgirl there has to be a certain level of secrecy, but there probably shouldn't be any secrets between Batgirls. That's just going to cause problems for everyone involved and Becky Cloonan and Michael W. Conrad have just gone in full force. There's so much info dumped in the first few pages, and yet it didn't feel that way at all. Everything was broken up into fun short snippets, so I never got bored and learned so much!
Cloonan and Conrad clearly work really well together to create as much awesomeness as we get in Batgirls #2. I loved the character growth we're seeing from Cass, Steph, and Babs. There's also a fantastic conversation we overhear Barbara having over an old rotary phone with someone… I'd love to hear the other end of that call!
It really is the little things that get me in series like these. It just goes to show how much effort the creators put into learning about the characters they're writing about. Barbara telling Cass about a cute little bookstore she should go and visit is amazing and really lends so much more depth to these ladies. There are a few things that I'm super intrigued to figure out; obviously the main mystery plotline, but also some smaller things that have been passed off as nothing. Knowing how good Becky and Michael are, I can practically guarantee that all those tiny things come back into play later in the series.
Red Eyes Mean Trouble
I get red eyes when I don't get enough sleep, but I really don't think that is the problem these townspeople are having. This feels more like some malevolent ruler has taken possession of their faculties and they have no control.
I love the art style in Batgirls #2. Jorge Corona has done a smashing job, as the design of the new big bad crew was just perfection. I love how detailed all their suits were and how different they were from one another. Everything fitted the characters and their personalities, and it all fed in so well with how they're described in the writing.
Sarah Stern has to be the stand-out creator for me this month, as her colorwork is stunning. Batgirls #2 is vibrant, yet still has an uneasy feeling about it. There's grit and fun, much like our Batgirls. I have to say the glowing effect on some of the detail on the suits was beautiful and they've really decked out those villains. Speaking of decked out, I would love my own pair of earrings, like Barbaras. Corona and Stern made those look so cool!
Conclusion
This is turning out to be a great series, even though THAT ENDING WAS UNNECESSARY! Of course, it definitely means I will be thinking of basically anything else apart from this until I can get my hands on the next issue.
Batgirls #2 is a feel-good comic that just puts you in a good mood. I only need to make it clear to the writers, if anything happens to my girls… there will be violence!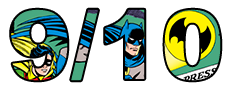 Images Courtesy of DC Entertainment