"The Neighborhood" – Part Three, and "Mary Knox" – Part Two
Writer: Mariko Tamaki
Artists: Dan Mora and Clayton Henry
Color Artist: Jordie Bellaire
Letterer: Aditya Bidikar
Review by James Attias
The mystery of what really happened to Sarah Worth continues, and the plot definitely thickens in Detective Comics #1036. In the lead story; Batman, Bruce Wayne and Mayor Nakano are all immediately on the defensive. Everything in Gotham is tense, and everyone's a suspect. It almost feels like no one is safe. As a reader… I LOVE IT!
Homage City
The art in this issue is stunning! The cover, the variant, the first page homage to Detective Comics #27, and all the interior art just made my heart happy. Dan Mora is quickly becoming a Batman icon and the way he expresses both the dark and stormy Gotham City and the tension between every character is sublime, not to mention the wonderful colours from Jordie Bellaire, who brings a comic book hero colour scheme to a dark and gritty book (I'm looking at you Huntress!).
This issue starts where the last issue finishes… Who is that zombie that looks like Sarah Knox and why is she creeping towards Bruce Wayne? This issue has so many questions, and thankfully a few answers too. Huntress is immediately thrown into the mix; firstly on the beautiful main cover, and then pointing that crossbow at Batman (really Helena?!). It's nice for a back up story to finally cross over with the main story, as recently DC has been keeping them distinctly separate. Huntress is on a mission to find who killed her friend Mary, we don't find out until the Solo Huntress story at the end; why that led her to Batman.
We're treated to a flourish of wonders in this issue! We have more screaming, intimidating rage from the Monstrous Mr Worth, who's a criminal (says so on the first page). and I'm excited to finally see him snap. We're shown a new casualty of A-day; and this time it's not a death, but the return of a familiar foe. With this we fall deeper into a mystery that's silently stalking Gotham.
Conclusion
I loved this issue, and when you read as many comics as I do every week… love is a strong word! I cannot wait for the next part of this wonderful story from this A-team, who are knocking every issue they work on out of the park! Detective Comics #1036 is a detective story that solves the mystery of which, for me, is the best book out this week!
Highly recommended.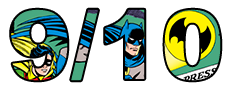 Images Courtesy of DC Entertainment