Gwen Stacy will be getting a meta makeover during Marvel's Heroes Reborn 2021 event this summer.
I assume it feels just as weird reading about a Marvel character as it does writing about one on a Batman fan site, but here we are. Gwen Stacy's makeover is part of Marvel's summer event that pays homage to a couple of landmark events from 1996. The first being the original Heroes Reborn, an event that saw several Marvel heroes reimagined by Jim Lee's WildStorm Productions, and Rob Liefeld's Extreme Studios. The second, and likely unofficially paying homage, is Marvel vs. DC – a crossover event between the big two comic publishers.
Spider-Man doesn't exist in this storyline (don't worry, Peter Parker is doing just fine as a Jimmy Olsen type "pal" for Hyperion; the Squadron Supreme/Heroes Reborn equivalent to Superman) and neither does Spider-Gwen. Enter Night-Gwen: a sidekick for the Squadron's Batman surrogate, Nighthawk. Making her Heroes Reborn's version of Batgirl.
In this event, Gwen is formally known as Dr. Gwendolyn Stacy and is Ravencroft Asylum's most prominent psychiatrist. It sounds like there's a dash of Harley Quinn mixed into this version of Gwen Stacy too. According to GamesRadar, she'll be hunting down the Jackal as Nightbird (her actual codename). The one-shot will be written by Vita Ayala with art by Farid Karami. Ayala has this to say about writing Night-Gwen #1:
I've always loved these types of stories, and being asked to write a re-imagined Gwen Stacy is such a thrill! It was a really fun chance to get to explore and play with boundaries with a new version of an incredibly iconic character. Plus, the team had a lot of fun putting in little Easter Eggs for everyone to find!
Night-Gwen's Costume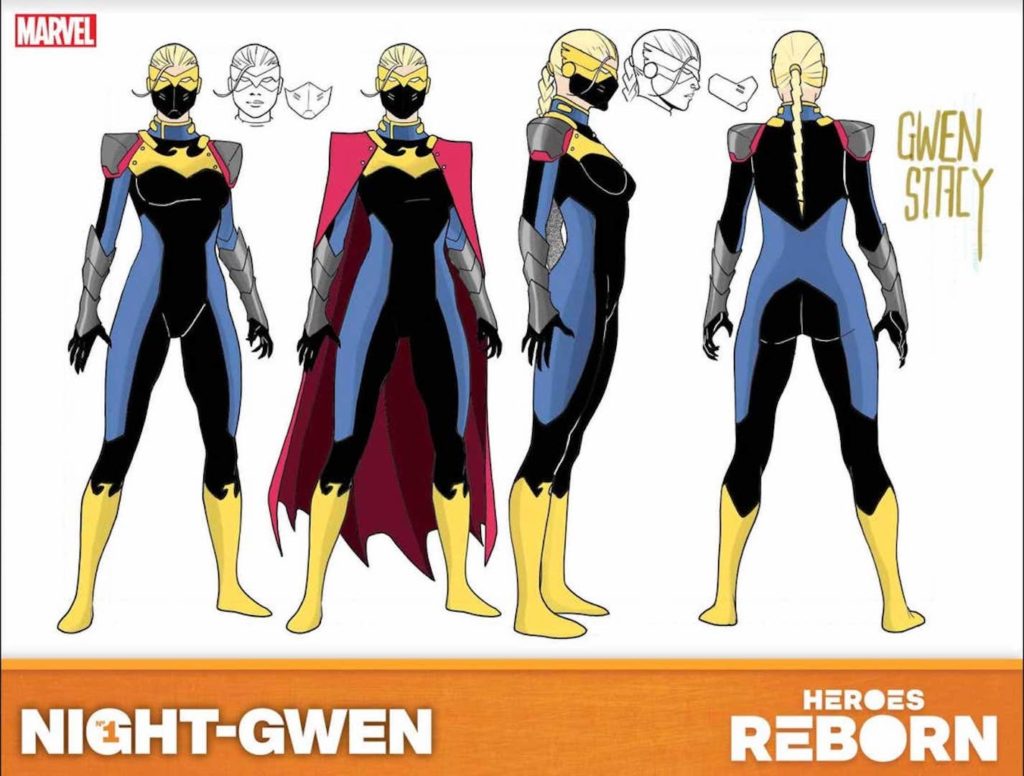 Nightbird's costume was designed by Javier Garrón – the artist who has drawn most of Enter the Phoenix, which directly leads into Heroes Reborn 2021.
about designing the costume, Garrón says:
I like to think every costume must tell its own story. So here we had Gwen modeled after her mentor, Nighthawk, but very much a superhero in her own right. I wanted her to keep the color codes and main outline in the shoulders (so the silhouette would be reminiscent of Nighthawk's) and mask. Give it a modern but slightly classical favored touch.
Night-Gwen won't be the only Batman sidekick surrogate to grace the Heroes Reborn pages; Miles Morales as the Falcon will be part of the Hawk-family. Morales takes the place of, as many Robin's have done before, the original Falcon, Sam Wilson.
Whether or not Heroes Reborn is unofficially celebrating the 25th anniversary of Marvel vs. DC (and the Amalgam Universe), it's always fun to see the nods and Easter eggs that Marvel and DC have with one another.
Night-Gwen #1 is due out in June. Let us know in the comments if you plan on reading Marvel's seeming Batman-inspired versions of their characters!
Images May Be Subject To Copyright.
Source: GamesRadar