Writer:
Brian Michael Bendis


Artist:

Ryan Sook


Color Artist: Jordie Bellaire
Letterer: Dave Sharpe
Review by Carl Bryan
Eisner Award-winning writer Brian Michael Bendis re-teams with master artist Ryan Sook (Action Comics) for one of the most ambitious mainstream comic books ever created! Bendis juggles an incredible cast of characters with ease. At times, I'm not sure what he's doing across the DC Universe, but he really has taken the care needed to address this huge team of diverse heroes.
I continue to applaud Ryan Sook and his use of Superboy/Jon Kent, Lightning Lad, and Saturn Girl at the forefront, but there are so many other characters to drink in. Bendis literally could spend is entire career writing for this book.  As a fan, I do hope that DC will incorporate many more side issues (ala X-Men) to branch out the Legion as all heroes deserve their own stories told.
Bendis' continued use of the "hovering ID badges" not only do they aid the reader, but they're a great way to see things through Superboy's eyes. We are as much rookies as he is in viewing this new world.
Saturn Girl's acknowledgement of Superboy's failure to identify her without her "badge" lends itself to foreshadowing that she's to be a future love interest, but that's simply speculation on my part! She's a mind reader, and that type of power is to be suspected and respected at the same time!
A Rose, By Any Other Name…
Rose Forrest and her "dialogue" with the Madam Honor President is classic. She's tough and doesn't take any nonsense. "Threaten me again and see what happens!" I loved this! She is adamant in defending the Legion, but she also does a great job in scolding them when their actions feel threatening. The Legion must realize that not only are they heroes, but they're entrenched in political matters as well. Great writing Bendis!
Heaven – a cafeteria adorned with all the best foods from many  different planets. It's the ultimate college age hangout for young superheroes… again, Bendis has tapped into that young mindset! The Trident and Ultra Boy – great back story and great use of a historical item. When you look at this story, Bendis is doing a great job marrying history and tweaking it with elements of canon.
Finally, Gotham World. How does Jon get to go back and forth between the past and the future? I think I've missed something, but it's clear that in his short time as a young Jon Kent, he established quite the relationship with Damian Wayne. If this is played right, Damian's going to shake up a trip to the future in such a way that he'll become a welcome addition to the Legion. That, or Jon may end up screwing his privileges up really badly.
Given recent events in Batman, Damian may need some time away from Gotham.
Conclusion
Add Legion Of Super-Heroes #2 to your collection. If treated as admirably as I think it will be, this series could be the extensive "X-Men" effort that DC has needed for quite some time! I just hope, as a parent, that Jon will go visit his folks once in a while, when he comes home!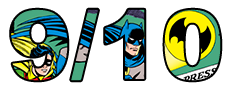 Images Courtesy Of DC Entertainment