Writers:
Brian Michael Bendis


Artist:

Ryan Sook


Color Artist: Jordie Bellaire
Letterer: Dave Sharpe
Review by Carl Bryan
Eisner Award-winning writer Brian Michael Bendis re-teams with master artist Ryan Sook (Action Comics) for one of the most ambitious mainstream comic books ever created! Why have the Legion of Super-Heroes broken the cardinal rule of the United Planets and inducted Jon Kent, a.k.a. Superboy, into the team? What are they hiding, and what does all this have to do with Aquaman's long-lost trident?
Positives
Brian Bendis and artist Ryan Sook really had their work cut out when taking this series, and these characters, on. This isn't just a one or two character comic and you have some very passionate fans who expect some aspect of continuation of Legions from the past. If you didn't think so, just check out any Twitter site that follows the team.  That being out there, Sook does a great job of juggling all the characters and also introduces a pretty nifty tool via Bendis' writing.
Utilizing "tech from before I was born" each character has a floating biography surrounding them during social situations, so as not to make things awkward. A virtual name tag so everyone can remain on the same level intellectually as explained by Saturn Girl. Interestingly enough, when a character introduces himself or herself, the font is extremely large throughout the comic. It's a great throwback tool to the 1970s, when comics would "announce" the character, and possibly an homage to that time, but it feels really necessary, given the cast of superheroes in this comic.
More Positives
Bendis provides a mystery from the initial start of the comic in the acquisition of Aquaman's trident.  It's written and illustrated like the opening scene of a Star Wars or Guardians of the Galaxy movie, and why not?  We are several years into the future!
Why did they pluck Jon Kent out of the past and invite him into the future?  I get the impression that all will be explained as we unfold the many layers that are the Legion of Super-Heroes.
Another nod should go to the cover art!  The Legion Logo is top notch and to have Superboy ahead of all the cast of heroes is pretty amazing.  His accelerated growth being placed into this story is pretty intense, if you have been following his story. He appears to feel right at home… albeit, I wonder how Clark and Lois are feeling about it.  Imagine giving up your little boy (and he was just a little boy) to the future as he's now a young man.  The soap opera timelines that comics give us, these days…
Conclusion
Buy Legion of Super-Heroes #1!!!!! This is ground floor "re-imagination" of the team.  The only drawback of this issue is that it's not bigger, as there are so many characters that need to be highlighted. I hope that Bendis can balance all of these mainstay characters, while telling rich stories, issue after issue!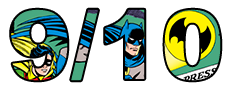 Images Courtesy Of DC Entertainment