Writer:  Paul Jenkins
Artist:
Jack Herbert


Color Artist: Adriano Lucas
Letterer: Troy Peteri
Review by Carl Bryan
Paul Jenkins compiles a laundry list of reasons why the gloves are now off for Commissioner Gordon, since his exposure to Dark Metal and The Batman Who Laughs. As one of the new Sinister Six, it has become interesting to see this iconic character simply go the road of the movie Network and say "I'm mad as hell and I'm not going to take it anymore!"
From his sacrificed relationship with his wife, his son's altered mental state, and "The Killing Joke" from his daughter's past, this "gloves off" version of James Gordon is one to be reckoned with.
Commissioner Gordon: Gotham is sick.  And that is why it must die!
The four page conversation on the rooftop, in the midst of a Gotham rainstorm with Detective Conley, is written and painted as tense as any Quentin Tarantino scene.
Jack Herbert's renderings of Batgirl in the rain… beautiful!
Gordon opens his can… haven't we seen what happens when Arkham is opened? Why have the Gotham government officials not moved this prison/asylum to the center of the Harbor, to at least get these villains a long swim to hamper their (frequent) escapes?
Conclusion
A true vigilante with a badge, this is not your 1966 Commissioner Gordon who only talks on a red phone.  I hope the influence of Dark Metal continues to influence the DC Universe.  "The Year of the Villain" certainly rewrote some chapters. I can't see where this goes!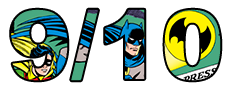 Images Courtesy Of DC Entertainment