"Batman: Damned" – Book Two
Writer: Brian Azzarello
Artist: Lee Bermejo
This issue is a fitting continuation of Part One. We catch up with Batman almost immediately after seeing that shocking memorial. From then, we follow his efforts to uncover how the Joker could be back. We get to experience just how far the consequences of the Joker's death reaches in this issue.
The sarcastic commentary of John Constantine runs through the story like a skeleton, and we're never certain of Batman's resolve or sanity because of it. Bermejo frames the entire story with art that makes Gotham both bleak and beautiful, gritty and welcoming.
Those two words could actually be used to describe the entire story.
Azzarello has intentionally portrayed two key parts of the wider DC Universe in different ways in this issue. I find one of these to be quite a strength, while the other is a style gripe that I disagree with. As many of you will have seen so far, Jason Blood and Etrigan have been largely re-skinned. It is completely obvious, and a great idea, that a rhyming Demon would work within a particular medium in the 21st century. Particularly with Gotham set to look the way it does in this tale.
A lot of time is divested in this issue, to show how Bruce remembers his parents, and they're unhappy. This makes me unhappy. It's been done before, but characterizing Thomas Wayne as a difficult man takes away any and all sympathy from him. If they're shown to be philanthropists and good people, it only makes Batman's origins more tragic, and validates his existence further.
Conclusion
The issue leaves the unfolding mystery in Gotham all the stronger. We get unexplained apparitions and the prophetic ravings of a mad man. The road ahead is as dark and open now as it was on the first page of issue one. I cannot wait to see how it all ends in the final issue, as I get the feeling that it'll be a true event.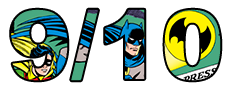 Images Courtesy Of DC Entertainment