"Crack-Up!" – Part One
Writers: Alan Burnett and Paul Dini
Artist: Ty Templeton
Color Artist: Monica Kubina
Letterer: Josh Reed
Review by James Attias
Batman: The Adventures Continue #3.3 Is a return to top form for this series! The art, the writing, and the pure class! What an issue!
Return To Form
This issue was a blast, from start to finish. From the moment Batman appeared it was like being hugged by an old, giant bat-clad friend. Everything felt right again. The story develops and really takes us to some of the parts of the DC Animated Universe that we've only really scratched the surface of. A certain Task Force that has a certain scary name that can't be used on Kids' TV… Need I say more?
Return of The King
It was wonderful to see the art of the fantastic Ty Templeton again, now that he's cancer-free (Whoop! Whoop!) He jumped back into this series like a caped hero into a batmobile! It's wonderful to have you back sir!
For those that aren't familiar, Ty Templeton has been a part of this corner of the DC universe since the beginning (The Batman Adventures Vol. 1 #1, 1992). So it was a wonderful return to form for the title. After the last issue, which felt slightly comedic, it was great to have some more serious tones in this book. From war to covert ops, to death threats. It was like being a kid again! I'm really excited about where this story goes next.
Conclusion
Loved it. The script, the plot, and the art were all absolutely excellent. My only complaint was, couldn't they think of a better name than Straightman? Let's see how that goes next issue…
Batman: The Adventures Continue #3.3 was a fantastic addition to the series!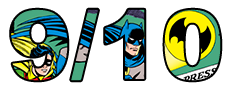 Images Courtesy of DC Entertainment
Review Written In Loving Memory of Kevin Conroy. Always Our Batman.