One of the highlights of every year is the annual DC Pride anthology comic. However, for Pride 2023 DC has announced that fans will be getting more… much more.
Highlights include:
DC Pride 2023 #1, DC's annual Pride anthology comic – May 30th
Eisner Award-winning artist Phil Jimenez to write introduction to DC Pride 2023 #1
Grant Morrison and Hayden Sherman to create an original Multiversity story for DC Pride 2023 #1
DC Pride: Through the Years #1 – June 13th
The DC Book of Pride, an official collaboration between DK and Warner Bros. Discovery Global Consumer Products – May 16th
DC Pride: The New Generation, a hardcover book collecting the stories from anthology comic DC Pride 2022 #1 – May 23rd
Here's the full press release, direct from DC.com: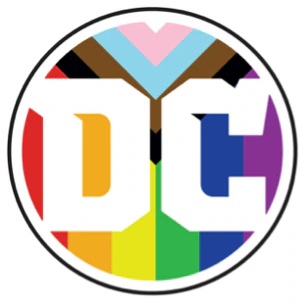 DC'S PRIDE 2023 COMIC BOOK ANTHOLOGY
HIGHLIGHTS THE PUBLISHER'S ONGOING LEGACY OF
LGBTQIA+ CHARACTERS
100+ pages of original content, an introduction by Phil Jimenez, and more!
EXPLORE A NEW DC CHARACTER ENCYCLOPEDIA
THE DC BOOK OF PRIDE
BY JADZIA AXELROD
Discover the rich history of DC's LGBTQIA+ Super Heroes in this inspiring hardcover
from publisher DK featuring detailed character profiles and comic book artwork!
DC TO PUBLISH DC PRIDE: THROUGH THE YEARS
WITH A NEW ALAN SCOTT GREEN LANTERN STORY
Includes three history-making out-of-print comics, now collected in a special-edition release!
DC PRIDE 2023 COMIC BOOK ANTHOLOGY HIGHLIGHTS
THE PUBLISHER'S AWARD-WINNING LGBTQIA+ LEGACY
DC Pride is back again with a brave, bold, and all-new collection of stories starring DC's stable of fan-favorite LGBTQIA+ characters—many of whom will find themselves in thrilling team-ups the likes of which you've never seen before!
DC's 2023 Pride collection of books and comics will be available at your local comic book shop, bookstore, library, and beyond, delivering bold stories, brave characters, and more pride than ever. DC Pride 2023 #1, DC's annual anthology containing all-new stories spotlighting LGBTQIA+ fan favorites, will be published on May 30. The 104-page Prestige format comic will feature an introduction by Phil Jimenez, a main cover by Mateus Manhanini, and open-to-order variant covers by Gabriel Picolo (wraparound), Jen Bartel (spot foil), and Oscar Vega (cardstock).
The DC Pride 2023 creative teams and the characters they are developing stories for include:
Tim Drake and Connor Hawke by Nadia Shammas and Bruka Jones
Circuit Breaker and the Flash of Earth-11 by A.L. Kaplan
Midnighter, Apollo and Alan Scott Green Lantern by Josh Trujillo and Don Aguillo
Ghost-Maker and Catman vs. Cannon and Saber by Rex Ogle and Stephen Sadowski
Jon Kent and John Constantine by Christopher Cantwell and Skylar Patridge
Natasha Irons and Nubia by Mildred Louis
Harley Quinn, Poison Ivy, and Crush by Leah Williams and Paulina Ganucheau
Multiversity by Grant Morrison and Hayden Sherman
And more!
Harley Quinn and Poison Ivy go to extreme measures to get a little alone time…but there's nowhere on the planet Crush can't crash. Jon Kent gets a comprehensive course in dark magic when John Constantine sics a golem on him. Tim Drake and Connor Hawke learn that there is nothing more awkward than reuniting with an old friend after you've both come out and one of you was indoctrinated by the League of Shadows for a while. Circuit Breaker struggles to stifle his powers after the Flash of Earth-11 leaps out of the time stream and knocks them both into another dimension. Just how far would Flashlight go to honor his lost love? Discover all these stories and many more in DC Pride 2023!
DC's Pride anthology comic will also include a five-page preview of an upcoming Dreamer story by Nicole Maines and Rye Hickman. Pinup pages in DC Pride 2023 will feature artwork by Maria Llovet, Ro Stein and Ted Brandt, Travis Moore, Noah Dao, Claire Roe, Babs Tarr, and more. With over 100 pages of original stories and content, DC Pride 2023 celebrates the boldest and bravest of DC's Super Heroes!
EXPLORE A NEW DC CHARACTER ENCYCLOPEDIA
THE DC BOOK OF PRIDE BY JADZIA AXELROD
An official collaboration between DK and Warner Bros. Discovery Global Consumer Products, The DC Book of Pride is an inspiring illustrated hardcover that profiles more than 50 LGBTQIA+ characters in detail, including Harley Quinn, Jon Kent, Nubia, Tim Drake, Batwoman, Aquaman, Dreamer, new character Circuit Breaker, and many more.
Authored by Galaxy: The Prettiest Star writer Jadzia Axelrod, it illustrates the rich histories, fascinating origins, amazing superpowers, and key storylines of DC's leading queer Super Heroes and Super-Villains. With stunning interior artwork and an exclusive cover by renowned illustrator Paulina Ganucheau, this DK book is a wonderful guide for DC fans that arrives just in time for Pride Month on May 16th.
DC TO PUBLISH A CELEBRATORY NEW
SPECIAL-EDITION PRIDE COMIC BOOK
DC will also be publishing a special-edition comic book, DC Pride: Through the Years #1, collecting three out-of-print comics in an oversize new release. Take a journey through over 30 years of fan-favorite LGBTQIA+ characters in the DC Universe with this collection that not only remembers and celebrates landmark issues of days past but also teases exciting new stories yet to come!
DC Pride: Through the Years (80 pages), with a cover by Derek Charm, will publish on June 13th. It contains reprints of The Flash #53 by William Messner-Loebs and Greg LaRocque, in which villain turned hero Pied Piper comes out to his friend the Flash and helps thwart a dastardly villain; Detective Comics #854 by Greg Rucka and J.H. Williams, featuring the thrilling beginning of Batwoman's first solo series, which launched her into stardom; and Supergirl #19 by Steve Orlando, Vita Ayala, and Jamal Campbell, which tells the story of Lee Serrano, a nonbinary teenager who befriends the Girl of Steel. It also includes an all-new story by Tim Sheridan and Cian Tormey featuring Alan Scott as Green Lantern, teasing exciting new stories that will light the way for Alan's next great adventure.
DC'S ONGOING COMIC BOOK SERIES
CONTINUE DC PRIDE ALL YEAR
Throughout its line of monthly comic books, DC will highlight Pride-themed variant covers on series that feature queer characters in regular and lead roles.
This year, look for DC Pride covers on Steelworks #1 (Joshua "Sway" Swaby), Spirit World #2 (Jessica Fong), Green Arrow #3 (Luciano Vecchio), Adventures of Superman: Jon Kent #4 (Stephen Byrne), Superman #5 (W. Scott Forbes), Batman Incorporated #9 (Rosi Kämpe), Tim Drake: Robin #10 (Travis Moore), Poison Ivy #13 and Harley Quinn #31 (connecting covers by Claire Roe), Nightwing #105 (Yoshi Yoshitani), Wonder Woman #800 (Ted Brandt and Ro Stein), and Detective Comics #1073 (Amy Reeder).
STOCK YOUR BOOKSHELVES WITH NEW DC BOOKS
DC's Pride plans aren't limited to June! In addition to DC Pride 2023, new DC books to add to your TBR piles, pull lists, Pride book clubs, or in-store Pride displays and to share with friends year-round include:
DC Pride: The New Generation hardcover (5/23)
Doom Patrol by Rachel Pollack Omnibus hardcover (3/14)—second printing
Harley Quinn Vol. 3: Verdict hardcover (3/21)
Multiversity: Teen Justice trade paperback (3/21)
Poison Ivy Vol. 1: The Virtuous Cycle hardcover (5/16)
The Authority Book One trade paperback (4/25)—2023 edition
Superman: Son of Kal-El Vol. 3: Battle for Gamorra hardcover (5/9)
Wonder Woman Historia: The Amazons hardcover (6/6)
and more!
DC's award-winning and bestselling backlist titles featuring LGBTQIA+ characters are available everywhere books are sold, including:
and more!
Fans can also celebrate DC Pride and read comics featuring LGBTQIA+ characters online by visiting the DC Universe Pride hub page on DC Universe Infinite, DC's premium digital comic book service. New titles are added every month, and a selection of free-to-read titles will be featured for registered users during Pride!
DC and Warner Bros. Discovery are proud to be working in partnership with LGBTQIA+ organizations such as Trans Lifeline, PFLAG National, The Trevor Project, Family Equality, Human Rights Campaign, and Athlete Ally, and more, to celebrate Pride in 2023. Warner Bros. Discovery and its brands have long-standing relationships with these nonprofit partners through the ongoing support of their work and year-round collaboration on social impact initiatives.
Through paneling, events, advertising, outreach, and more, these partnerships help to create a more inclusive and compassionate culture for all superhero fans and provide resources for readers looking to learn more about these nonprofit organizations.
Stay tuned for more Pride announcements from DC and Warner Bros. Discovery Global Consumer Products between now and June! #DCPride
Images and Press Release Courtesy of DC Entertainment