Comic art legend George Perez has passed away.
George Perez's Influence on the Industry and Pop Culture
Perez was an icon in the comics art industry with a career that spanned decades. His style was highly detailed and he was the kind of artist who always gave extra effort to create unique looks for all of his characters. Perhaps he's most famous for his giant crowd scenes, making him the ideal artist for major superhero team books and crossover titles.
His artistic runs had a huge influence on the various franchises he worked on, as well in the general pop culture landscape. He co-created popular characters, like Starfire, Cyborg, Raven, Deathstroke, Terra, and Vigilante for DC, and MArvel's evil possible future Hulk, The Maestro. He was also one of the men behind helping Dick Grayson grow from Robin into Nightwing.
A Fast-Growing Super Star Artist
George Perez was born in the Bronx neighborhood of New York on June 9, 1954.  At the age of 20, Perez had published work for Marvel in Astonishing Tales #25.
Perez quickly jumped onto drawing major titles, like The Avengers and Fantastic Four. In the 1980's  he began a run on Justice League of America, making him the only artist to draw both The Avengers and Justice League simultaneously.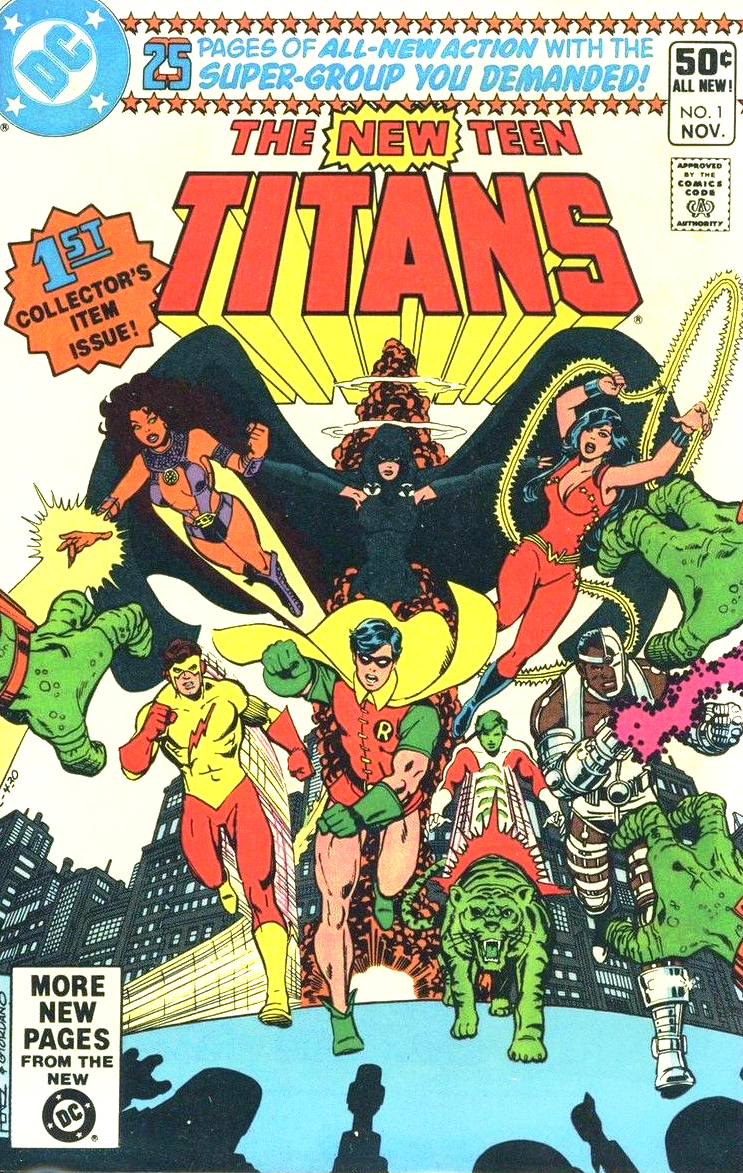 Also in 1980, Perez teamed-up with Marv Wolfman to relaunch The New Teen Titans. Not only was their run probably one of the most impactful runs in the team's history, but it also introduced the after-mentioned Cyborg, Deathstroke, Starfire, and Raven into the DC universe. Of course, many of the ideas, characters, and concepts made it into mainstream media, through the Teen Titans and Teen Titans Go! cartoon series.
The Crossover King
Perez left The New Teen Titans in 1985 to work on the crossover Crisis on Infinite Earths, a series that boasted a cast of literally hundreds of characters. It also cemented Perez's reputation as "the guy who draws really good crowd scenes".
After Crisis was completed and rebooted the DC universe, Perez relaunched Wonder Woman in 1987 as a co-writer and main artist. After winding down on his Wonder Woman run, he also drew the first three issues of Marvel's Infinity Gauntlet crossover title, a storyline that went on to inspire major blockbuster movies, like Avengers: Infinity War and Avengers: Endgame.
After a bout with various titles, Perez returned to The Avengers to have another seminal run in the late 90s. This arguably led to his biggest story ever: JLA/ Avengers where the two flagship teams crossed over in 2003. In 2011, he helped reboot Superman as a part of the New 52 revamp.
In 2014, he drew his final regular series, the creator-owned Sirens miniseries for BOOM!  He officially retired from regular comic book art due to his declining health, including the partial loss of his eyesight in 2019. He revealed his pancreatic cancer diagnosis in December 2021.
George Perez is survived by his wife Carol, was loved by everyone here at Dark Knight News, and fans all over the world.
Source: CBR.com
Images may be subject to copyright