[Editor's Note: This review may contain spoilers]
Writer: Mattson Tomlin
Artist: Andrea Sorrentino
Color Artist:
Review by Carl Bryan and Steve J. Ray
I've spent my entire life trying to keep what happened from happening to anyone else
– Detective Wong
In Batman: The Imposter #2, Detective Blair Wong sets her sights on Bruce Wayne as a source of information about the Batman, but neither of them was ready for the sparks that fly when they meet. Unfortunately, the imposter Batman has killed again, and the pressure is mounting to close the case… immediately!
Batman: The Imposter treats Bruce Wayne and the people around him as tragically flawed and vividly real, with the obstacles Batman faces coming from a reality that closely mirrors our own. Bruce's relationships with both Thompkins and Wong are delved into much deeper in Issue #2, as we find Thompkins being the altruistic therapist who never gave up on Bruce when others did… namely Alfred.
Wong and Bruce share a similar past, which places them into all familiar territory, emotionally and professionally, and this is a dangerous start, at best, for two tragic figures.
Conclusion
Buy this comic. Batman: The Imposter #2 continues to deliver one of the grittiest and most realistic interpretations of everyone's favorite Dark Knight to ever grace the comics page. Many fans still quote or revere classics like Batman: Year One, or the more recent Earth One tales, and rightly so. In my humble opinion, this series will be spoken about with the same levels of respect as those other stories, and if the first two issues are anything to go by, the comparisons and admiration will be fully deserved.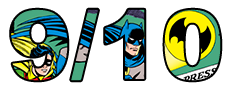 Images Courtesy of DC Entertainment