"Wake", "The Executive Game", "Hunter Or Hunted",  and "The Batman With No Name"
Writers: Jackson Lanzing, Collin Kelly, Tim Seeley, Guillaume Singelin, Kenny Porter
Artists: Max Dunbar, Juan Ferreyra, Guillaume Singelin, Baldemar Fivas
Color Artists: Sebastian Cheng, Juan Ferreyra, Alejandro Sánchez
Letterers: Aditya Bidikar, Becca Carey, Tom Napolitano
WARNING! The preview art contains HUGE Spoilers for Batman: Urban Legends #7!
Review by Carl Bryan
The legend of Batman only begins with Bruce Wayne! For centuries to come different people will take up the mantle of Batman and defend the times they're living in from all forms of villainy. See four of the finest Bats the future may offer! in Batman: Urban Legends #7.
• In Neo-Gotham, Bruce Wayne lies murdered in the Batcave. Terry McGinnis-Bruce Wayne's final protégé-will travel into the dark heart of Neo-Gotham to find who killed the greatest hero the city ever knew.
• In Future State, Cassandra Cain just wants a moment to enjoy a hot meal but the Magistrate's pursuit of her is relentless!
• In a blasted 853rd Century, a new Dark Knight stands alone (ish) against a murderous gang threatening his ruined world…and their mysterious leader will shock you!
Flash Forward
Batman Beyond: Okay…you have my attention.  The promising Batman Beyond: Neo-Year #1 has arguably fulfilled a huge prophecy in conclusively proving that there are other characters capable, and worthy, of taking up the mantle of the Batman. Never has "The Family" been so huge, and I could recite all of the former and current Robins as well as others that are in the midst of defending Gotham.
Incidentally, who would want to live in such a place…. whew?!?  But, I digress. This story (sorry for the spoiler, but the preview art does that more than I have) begins with a shocking death, and the Batcave quite literally under rubble. What a jumping-off point for Batman Beyond!  So many timelines to explore, but this is the beginning of a Terry McGuiness story like no other.
Batman 666: Damian Wayne assumes the Mantle of the Bat… no capes, but one heckuva trench coat and an ally (alley) cat named Alfred. New enemies are introduced and disposed of before we have any notion of how we even got here. I thought the Grim Knight was the Punisher form of Batman. but it turns out that Damian has more axes to grind with the Seven Deadly Sins. It appears that Batman's son is battling his own demons as he seeks to "earn" the mantle that is deservedly his birthright.
As it turns out, Damian's made a deal with the Devil himself, and the world will never be the same again. You have our attention DC!!!
Future State:  Cassie's story is pure Manga. As a reviewer, I love Cassandra Cain, but Manga isn't really my cup of tea. That's okay, though, because I realize that it's an acquired taste. Unfortunately, it turned me off immediately seeing any Bat story associated with Manga, as I'm very traditional in how a Bat story should be told. Again, this is just my lens and not yours!
REAL BIGTIME FUTURE STATE: Here we go deep into the Future with a Batman that's warden to a prison chock full of futuristic powerful criminals and a robotic Robin. Your imagination is really stretched in this one, particularly if you've never read the adventures of the 853rd Century's Batman before! This Caped Crusader has all of the prior Batman incarnations at his fingertips… Mode Change: Knightfall… Mode Change: Dark Knight. All this and a battle with Hades on Pluto (finally the planet/star gets its own recognition again!)
Conclusion
Batman: Urban Legends #7 is a catalog of things to come or imagined. The issue starts really strong and heavy with known entities such as Terry McGuinness and Damian (Whew… Batman 666 is going to be an AWESOME story) but it lost me with the Manga incarnation of  Cassandra Cain and the Pluto story of a Batman of the distant future. However, you need to pick this gem up if nothing more for the setup of Batman Beyond and Batman 666. Those will be your crown jewels, and you may love the others too!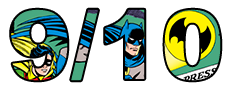 Images Courtesy of DC Entertainment