DC Fans have been waiting for more details on 2021's DC FanDome and with a little bit more than a month before the event, we now know some of what we can expect to see.
This year's DC FanDome will be streaming on Saturday, October 16th starting at 1 pm ET/10 am PT. It's expected to feature exclusive content and breaking news from the entire world of DC Comics: movies, TV, video games, comics, etc. It will be available on DCFanDome.com, YouTube, Facebook, Twitter, and (for the first time) Twitch.
Ann Sarnoff, the Chair and CEO of WarnerMedia Studios and Networks Group, said of DC FanDome:
DC FanDome 2020 was a first-of-its-kind global virtual fan experience and showcased every aspect of the DC Universe with unprecedented scale and access. This year, we're taking everything that people loved about DC FanDome and supercharging it to super-serve fans with even more exclusive first-looks, breaking news, in-depth interviews, and insight from the stars and creative teams of their favorite DC content.
What exactly can we expect to see at DC FanDome 2021? There's a lot. Below are some of the Bat-centric panels that you know everyone at Dark Knight News will be paying attention to.
The Batman
The Batman debuted its first trailer at DC FanDome 2020 and Matt Reeves plans on taking over DC FanDome's conversation with its second trailer this year.
Co-written and directed by Matt Reeves, The Batman will see Robert Pattinson as Batman, Colin Farrell as The Penguin, Paul Dano as The Riddler, Zoe Kravitz as Catwoman, John Turturro as Carmine Falcone, Peter Sarsgaard as Gil Colson, Jayme Lawson as Bella Real, Barry Keoghan as Officer Stanley Merkel, and Andy Serkis as Alfred Pennyworth. The film will not be connected to the mainline DCEU, akin to The Joker.
Batman: Caped Crusader
Matt Reeves has a big day/night on October 16th. Earlier this year, it was announced that a new HBO Max animated series was in the works. Batman: Caped Crusader has three huge names behind it, in addition to Reeves, Batman: The Animated Series legend Bruce Timm and director/producer J.J. Abrams.
While very little is known about this new animated series, DC FanDome 2021 will be the first place to spill more delicious details about it.
Batman: Fear State
Recently launched, the DC Comics Fear State event ties together Scarecrow's plans to control Gotham City with…:: checks notes:: fear. Fear State is just the start as it's meant to help launch several new Batman Family titles and plots that lead into 2022.
Batman/Fortnite One-Shot
Batman and video game fans had a great year in 2021. Batman/Fortnite: Zero Point, a 6-issue miniseries, combined DC Comics characters, and Epic Games' Fortnite. That's not all though, the story is set to continue in Batman/Fortnite One-Shot #1 will legendary Batman writer Scott Snyder. Snyder will be joined by Christos Gage and Donald Mustard with art from Joshua Hixson.
Batwheels
Kids won't be left out of DC FanDome 2021 this year. A preschool-oriented HBO Max animated series was announced last year. Batwheels will follow a group of sentient super-powered vehicles that fight crime in Gotham City. We don't know much, but the main concept is that the Batmobile and other Gotham vehicles have been given sentient life by the Batcomputer—what can't this thing do? The team will include the Batmobile, the Batgirl Cycle, the Redbird, the Batwing, and the Bat Truck.
Batwoman
Entering its third season, Batwoman continues with the newest caped crusader, Ryan Wilder (played by Javicia Leslie). Returning along with Leslie is Rachel Skarsten as Alice, Camrus Johnson as Luke Fox/Batwing, Nicole Kang as Mary Hamilton, and Meagan Tandy as Sophie Moore. Some new cast members are joining the party and include Bridget Regan as Pamela Isley/Poison Ivy, Victoria Cartagena as Renee Montoya, Nick Creegan as Marquis Jet, and Robin Givens as Jada Jett.
Catwoman: Hunted
Anime fans rejoice! An anime film starring Catwoman is in the works, titled Catwoman: Hunted. The film follows the titular anti-hero in an attempt to steal a priceless jewel (surprise!). She'll be in the crosshairs of a group of powerful villains, Interpol, and Batwoman.
Catwoman: Hunted is directed by Shinsuke Terasawa and stars Elizabeth Giles as Catwoman and Stephanie Beatriz as Batwoman.
DC League of Super-Pets
DC League of Super-Pets, an animated film set to be released in the summer of 2022, will follow the pets of DC superheroes as they form a crime-fighting team of their own. The characters set to appear are Krypto (Superman's dog), Ace the Bat-Hound (Batman's dog), Jumpa (Wonder Woman's kangaroo), and Streaky the Supercat (Supergirl's cat).
The film is directed by Jared Stern and Sam Levine and stars Dwayne Johnson as Krypto and Kevin Hart as Ace. Kate McKinnon, John Krasinski, Vanessa Bayer, Natasha Lyonne, Diego Luna, Keanu Reeves, and Jameela Jamil have all been cast in unknown roles.
DC Super Hero Girls
One of the coolest things to come out of DC FanDome 2021 is that there will be a special kid's curated version too. Part of that will be new content tied to DC Super Hero Girls. Currently, in its second season, the show tells the coming of age stories of the titular group.
The series stars Grey Griffin as Wonder Woman, Tara Strong as Batgirl, Nicole Sullivan as Supergirl, Kari Wahlgren as Zatanna, Myrna Velasco as Green Lantern, and Kimberly Brooks as Bumblebee.
The Flash (Movie)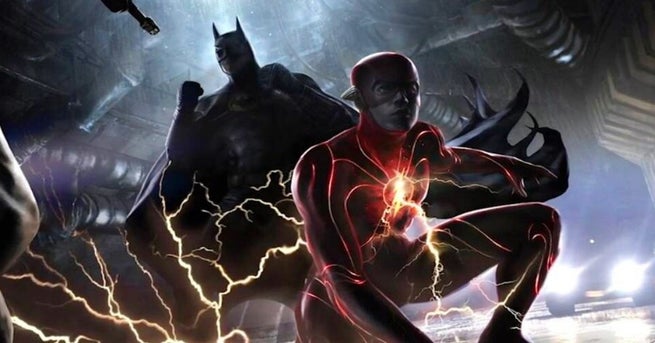 Easily one of the most anticipated DC films in years, The Flash was teased at last year's DC FanDome. It's expected to bring an exclusive sneak peek at this year's event and will bust open the DC Multiverse. The film will be directed by Andy Muschietti and written by Christina Hodson. The Flash stars Ezra Miller as The Flash, Ben Affleck, and Michael Keaton as Batman, Sasha Calle as Supergirl, Kiersey Clemons as Iris West, Ron Livingston as Henry Allen, Maribel Verdu as Nora Allen, Ian Loh as a young Barry Allen.
Gotham Knights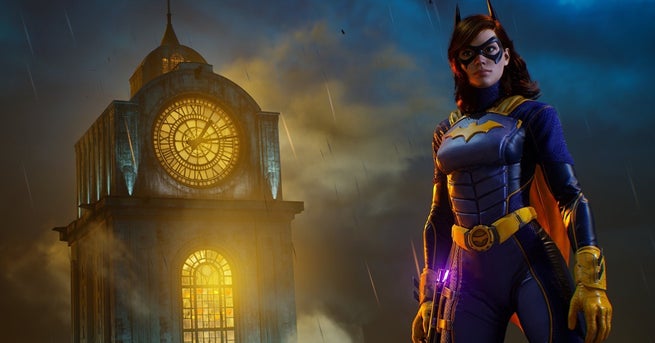 We first got a glimpse of Gotham Knights at last year's DC FanDome. This year will feature some new surprises, though all it really does is show us how long it takes to make a video game! Gotham Knights is an action role-playing game set in an open-world Gotham City. The game will feature four playable characters: Nightwing, Batgirl, Robin, and Red Hood. They've gone their separate ways but must work together once more as Batman is missing (or worse). Can they restore justice to Gotham and prevent it from descending into chaos?
Harley Quinn
The Award-winning Harley Quinn show is coming back for a third season! Having debuted on DC Universe, the show now lives on HBO Max and is expected to bring a sneak-peak to its newest season at DC FanDome 2021. The adult animated series stars Kaley Cuoco as Harley Quinn, Lake Bell as Poison Ivy, Ron Funches as King Shark, Tony Hale as Dr. Psycho, and Alan Tudyk as Clayface.
Injustice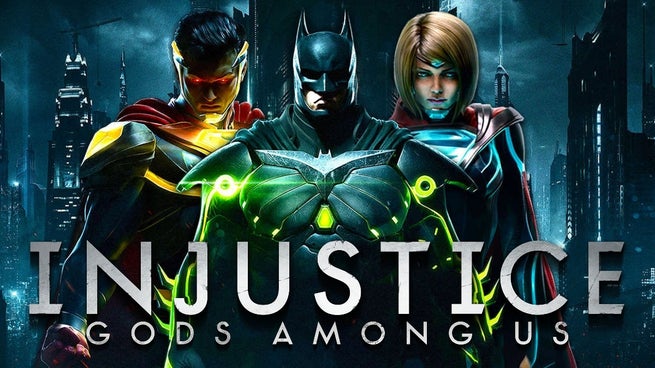 DC's animated movies are among some of the best storytelling out in the world. Pulling from the video game and comic series of the same name, Injustice is set to be one of the next DC animated films and will have a presence at this year's DC FanDome.
The film will star Justin Hartley as Superman, Anson Mount as Batman, Laura Bailey as Lois Lane and Rama Kushna, Zach Callison as Damian and Jimmy Olsen, Brian T. Delaney as Green Lantern, Brandon Michael Hall as Cyborg, Edwin Hodge as Mr. Terrific, and Killer Croc, Oliver Hudson as Plastic Man, Gillian Jacobs as Harley Quinn, Yuri Lowenthal as Mirror Master, Flash and Shazam, Derek Phillips as Nightwing and Aquaman, Kevin Pollak as Joker and Jonathan Kent, Anika Noni Rose as Catwoman, Reid Scott as Green Arrow and Victor Zsasz, Faran Tahir as Ra's al Ghul, Fred Tatasciore as Captain Atom, Janet Varney as Wonder Woman, and Andrew Morgado as Mirror Master Soldier.
Peacemaker
Both a prequel and sequel of sorts to The Suicide Squad, HBO Max's Peacemaker series will follow the origins of John Cena's Christopher Smith/Peacemaker and his post-Starro missions.
The series, created by James Gunn, will see the return of Steve Agee as John Economos and Jennifer Holland as Emilia Harcourt. Newcomers include Danielle Brooks as Leota Adebayo, Robert Patrick as Auggie Smith, Freddie Stroma as Vigilante, Nhut Le as Judomaster, and Chukwudi Iwuji as Clemson Murn.
Suicide Squad: Kill the Justice League
Another project that shows just how long it takes to make a video game, Suicide Squad: Kill the Justice League was initially teased during DC FanDome 2020. Rocksteady's take on the iconic groups of DC heroes and villains is set in an open world of Metropolis and allows fans to play as Harley Quinn, Deadshot, Captain Boomerang, and King Shark.
Teen Titans Go!
Currently, in its seventh season, Teen Titans Go! will be part of DC Kids FanDome. Whatever the series has up its sleeve, I'm sure fans (kids and adults alike) will have a fun time with it.
The series follows the adventures of young Titans: Beast Boy, Robin, Cyborg, Raven, and Starfire. Featuring the voice talents of Scott Menville as Robin, Hynden Walch as Starfire, Khary Payton as Cyborg, Tara Strong as Raven, and Greg Cipes as Beast Boy.
Titans
Another DC Universe original that's now on HBO Max, Titans is currently in its third season. Tackling its version of the Red Hood story this year, the series stars Brenton Thwaites as Robin, Anna Diop as Starfire, Ryan Potter as Beast Boy, Teagan Croft as Raven, Savannah Welch as Barbara Gordon, Minka Kelly as Dove, Alan Ritchson as Hawk, Conor Leslie as Donna Troy, Curran Walters as Jason Todd, Joshua Orpin as Superboy, Jay Lycurgo as Tim Drake, Vincent Kartheiser as Jonathan Crane, and Iain Glen as Bruce Wayne.
Young Justice: Phantoms
Finally, Young Justice will be returning to HBO Max for another season! Young Justice: Phantoms follows the most recent season, Young Justice: Outsiders and follows teenage superheroes of the DC Universe as they come of age. The team faces its greatest challenge yet as it takes on meta-human trafficking and the terrifying threat it creates for a society caught in the crossfire of a genetic arms race spanning the globe and the galaxy.
That's Not All
Wow, that's a lot of content! And that's not even all of it! There's a ton of stuff that is less Bat-centric and will be breaking the internet alongside these panels. DC FanDome 2021 starts October 16th, will you be watching? What are you looking forward to? Let us know in the comments below!
Images may be subject to copyright
Source: ComicBook.com