"When The Levee Breaks"
Writer: Adam Glass
Artists: Bernard Chang and Scott Hanna
Color Artist: Hi-Fi
Letterer: Rob Leigh
Review by Sam McTernan
Writing reviews can be the easiest, or the most difficult thing to do. You've got to either praise the product appropriately or be realistic in your criticism. Adam Glass makes that process insanely difficult due to the fact he never seems to drop the ball. I'm starting to run out of ways to praise his writing and the creative powerhouse of talent generated by his collaboration with Bernard Chang. Case in point is Teen Titans #38.
The issue itself deals with the revelation of the Other's true identity and it's certainly a unique situation. The main undertone flowing through this issue is choices. We see Damian presented with an interesting proposition, whilst the rest of the team have to figure out whether Roundhouse deserves a shot at redeeming himself.
Everyone knows how great the writing is on this series, so it's only fair to praise the stellar visuals too. Bernard Chang has yet again nailed the art, bringing us his unique and familiar style that just feels natural for the Titans. Seeing Scott Hanna's inks and Hi-Fi on colors is an absolute pleasure too. The pages really pop and it's nice to see their different, brighter approach to the original art.
Conclusion
Teen Titans #38 is another well rounded issue that keeps you invested in the team and it's future.  Mixing the familiarity of the Glass/Chang/Hanna collective with the brighter colours of Hi-Fi has added a fresh perspective to the book.
As usual the team end the issue leaving you wanting more and I, for one, can't wait.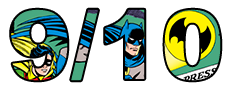 Images Courtesy of DC Entertainment

google.com, pub-9882021783221697, DIRECT, f08c47fec0942fa0