"Presumed Innocent"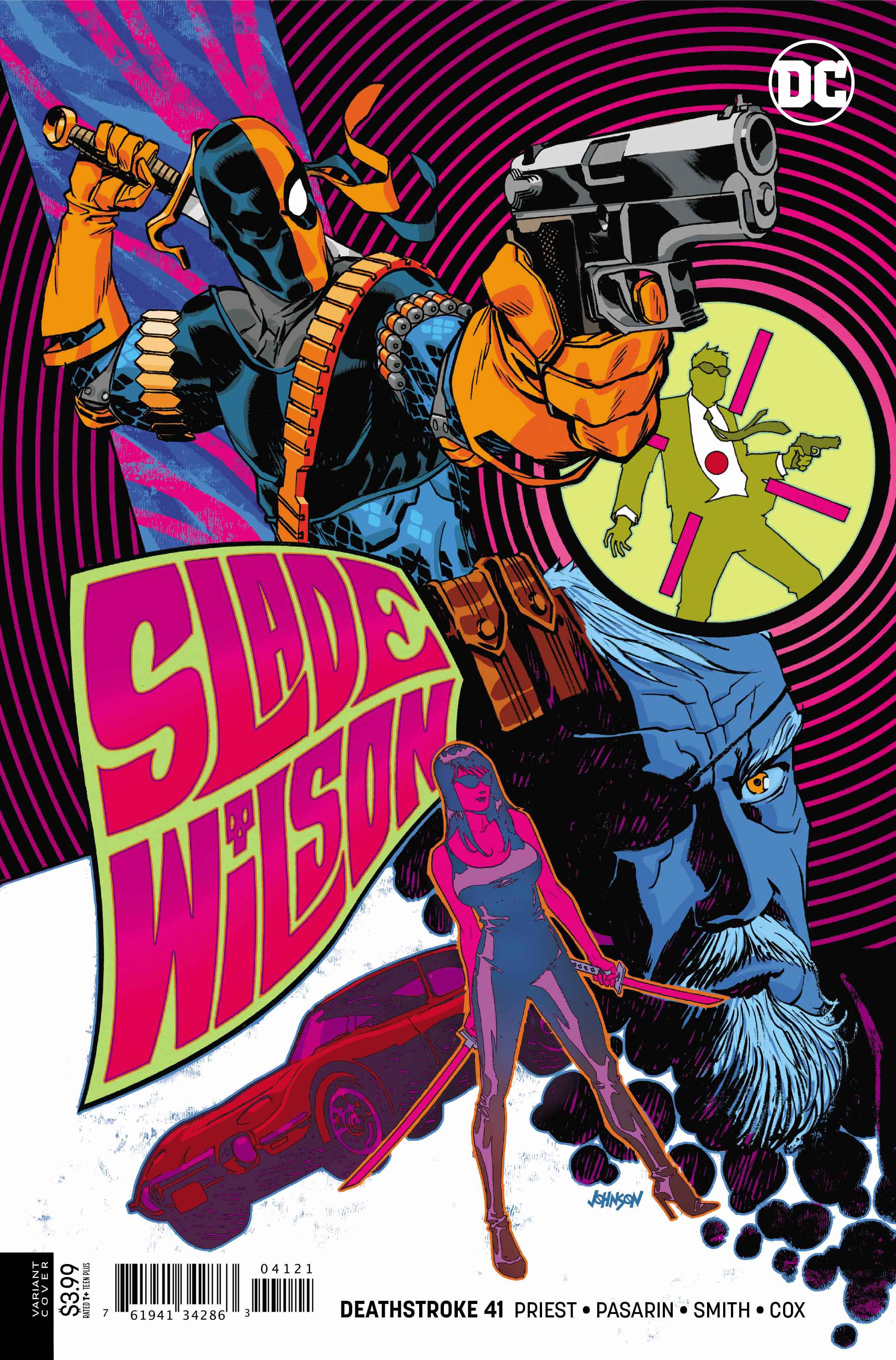 Writer: Priest
Artists: Fernando Pasarin, Cam Smith, and Sean Parsons
Colors: Jeromy Cox and Carrie Syrachan
Letterer: Willie Schubert
Slade Wilson faces a crisis of morality in this week's Deathstroke #41, as our resident assassin comes to grips with killing a grandma.
Having escaped the bowels of Arkham Asylum last issue, Deathstroke is on the run from the police. Immediately after his jailbreak, he attacks a hoard of Pluorians, aliens hellbent on taking over the world. Unfortunately, the invaders were disguised as homeless people, so Deathstroke once again is on the wrong side of the law, with his wanted poster plastered on every billboard in Gotham.
The issue opens with Slade carrying out a hit on an elderly woman named Billie Parker. Since both Wintergreen and Hosun quit, Deathstroke has had to use freelancers to book his assassination gigs. After running a background check on Billie, Slade questions the validity of the job, as Billie's record is squeaky clean. In Slade's mind, there is no reason anyone would want this 68-year-old woman dead. Therefore, Slade asks Rose to run Billy's social security number backward to see if there was a mistake. After chasing down a false lead, Slade and Rose conclude that Billie was the correct target and that someone was testing Slade's resolve as an assassin.
A Priestly Script
"Presumed Innocent" is unabashedly a filler issue, ramping up to the Teen Titans/Deathstroke crossover, which starts next month. Nevertheless, Deathstroke #41 is a well-constructed one-and-done story that delves into Slade's morality.  Priest uses an interesting subplot to explore this theme, as Commissioner Gordon and Wintergreen debate the ethical differences between Batman's vigilantism and Deathstroke's work as a hired gun. The issue also ends with a fairly well-executed cliffhanger that sets the stage for the forthcoming "Terminus Agenda".
Pasarian Pencils
As always, Fernando Pasarin's pencils are brilliant. Throughout the issue, Deathstroke faces off against a c-class electro villain named "The Electrocutioner". These combat scenes are stunning in their composition. Moreover, Pasarin's work electric (pun intended) and dynamic. These panels move at breakneck speed, thereby catching and holding the reader's attention. While Pasarin's work on Deathstroke has been consistently stunning, Deathstroke #41 is a diamond among jewels. This issue contains some serious eye candy.
Conclusion
Deathstroke #41 is a character-driven, cerebral read. Although the issue isn't nearly as high concept as the recently concluded "Arkham" arc, there is a lot to unpack. Priest depicts a complicated villain – one who at times seems to question the validity of his profession. Meanwhile, Pasarin delivers delightfully intricate pencils that capture the reader's imagination. Overall, Deathstroke continues to deliver brilliance issue by issue. Verdict: bring on the "Terminus Agenda".

Images Courtesy Of DC Entertainment