"Art of the Crime" Part Three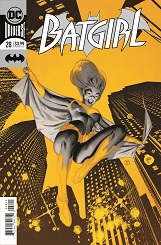 Writer: Mairghread Scott
Artists: Paul Pelletier, Norm Rapmund & Jordie Bellaire
After the events of the last issue, Batgirl is left trying to explain to the GCPD that she didn't kill Phillipe Rianne. With incriminating evidence on the ground in front of her, Batgirl sees no other option but to run. Now she's a fugitive, and all the while Batgirl's still dealing with her mind and body failing her.
The stakes are higher than ever in this issue as Wyrm, member of The Dark Web, reveals his hand in the actions of Grotesque. With the high society types of Gotham in danger, Batgirl needs to stop Grotesque and Wyrm before things get worse.
Gordons Never Give Up
Something that's been drilled into Barbara her entire life is that "Gordons never give up." This whole comic run is testimony to that. Knowing what's at stake, even though she's dealing with her own stuff, Barbara fights on to save the people of Gotham. Throughout the issue, Batgirl pushes herself to her mental and physical limits. Proving that not only is she a hero that doesn't give up. But that she's a Gordon that doesn't give up.
Overall, this was yet another fantastic story from Scott and the team behind Batgirl. There is a great reveal in this comic, which I really didn't see coming.
Conclusion
The only problem I have this issue, this entire run actually, is the artwork. That's not to say it's not good, because honestly some of the detail in the panels is beyond incredible. It just doesn't feel like a Batgirl comic when I'm reading it. I'm also not a massive fan of the new/old costume. I much prefer the costume she had previously.
This is my only complaint, otherwise I think it's a pretty great comic. The story is fantastic, as is the writing. Just the artwork lets it down for me.

Images Courtesy of DC Entertainment