"Art of the Crime" Part Two
Writer: Mairghread Scott
Artists: Paul Pelletier, Norm Rapmund and Jore Bellaire.
Man, what a roller-coaster of a comic this was! After the incredible end of last issue, Mairghread Scott launches us right into the action this week.
Batgirl's on the hunt for Grotesque, an art thief who's taking things up to the next level. Grotesque is a foe that pushes Barbara to her physical and mental limits. From a fan's perspective this is both terrifying and thrilling to read.
I love Batgirl and her character, I think she's one of the most determined and focused heroes in the DC Universe. Her mind is certainly her biggest asset, so it begs the question, what happens if it were to become cracked or fractured?
The Grotesque Connection
Honestly, Grotesque is one of the best villains that Batgirl has come up against in recent history. I love that he offers more than just another punk to beat down. Grotesque is crafty and quick witted, mentally challenging Batgirl to push herself in order to catch him. In this comic, Grotesque makes a claim which would tie him to recent events in Nightwing.
Scott has pulled off an excellent twist in this issue, taking the story in a whole new direction. I found that this issue was one of the best written issues of Batgirl for a while. The build up to it was spectacular, the previous instalment finished off on an incredible note. This issue was no different, and knowing that this isn't the end of the arc fills me excitement.
Conclusion
Overall this was a fantastic issue of Batgirl. The only thing that let it down for me was the artwork. I feel like the art style just didn't fit the feel of the comic. I'm not a fan of Barbara's new look in this comic. Bring her old costume back!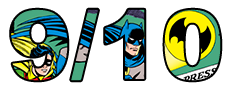 Images Courtesy of DC Entertainment