Our lives can never be too busy to remember our Bright Knight. Today marks the date our dear Adam West would have turned 90 years old. Last year, Dark Knight News published an article sharing our beloved memories.
On rainy days, I watch one of the silliest of shows, Family Guy. Often I watch others, such as The Simpsons and Fairly Odd Parents, and it's always Adam West's characters that crack me up.
During New York Comic Con, 2017, the stars of Batman vs. Two-Face (his last voice acting film) adored working with him. Burt Ward spoke so fondly, and there are so many others who will think of the Bright Knight and have their faces light up.
He brought joy to people worldwide, of all different generations. In my most recent experience of his work, Batman vs. Two-Face, the actor was hilarious. Some of his actions had me rolling my eyes at the obvious "Dad-jokes", and really that is how his characters felt, an odd uncle or jokester neighbor. Over the weekend, watching the episode And Then There Were Fewer, his role broke me into laughter. I thank him for the years of continuous joy. We certainly miss you.
More Than A Caped Crusader
Some of our newest staffers and our Editor wanted to share their thoughts about Mr. West:
Adam West was the first time I ever saw a superhero in the flesh. I remember being about 8 and watching a VHS of the Batman movie. I was awed into silence and captivated by the acting, story and sound effects. I am partially sure my love for sharks started with this movie so thanks Adam for that as well. As I grew older you grew with me infiltrating Family Guy and making me laugh solely at the sound of your voice. It is hard to put a price on those memories. You were intrical in my love for my art career from comics to animation. I will always have Bat love because of you. Thank you sir. – Kendra Hale

I'd have to say that Adam West was, unfortunately, a bit before my time. But I'll forever remember watching the Batman movie with my family. The crazy colorful 'WHACK' and 'POW' effects that spiraled onto the screen every time Batman beat down on some punks will forever be embedded into my memory bank. My favorite scene has got to be when Robin suggests exiting a room through the door, but that wasn't enough for West's Batman. No no, he wanted to exit through the window. Enter the infamous Batman and Robin scaling the side of a building scene. While I never saw much of you, I would like to thank you for being the reason I miss those fight sequences, definitely should have had some in the Justice League. Thank you. – Phillip Clark
I had to catch the 1966 Batman series in syndication. It ended its prime time run two years before I was born (damn, I just told my age). I thought that I struck gold when my big brother told me about a television special was airing featuring Adam West and Burt Ward as the Dynamic Duo! Legends of the Superheroes tried (desperately) to capture the magic of Batman show. As a bonus, they threw in other champions like the Flash, Green Lantern, and Captain Marvel (the real Captain Marvel in my book). By this time, I had expanded my DC character knowledge. I learned that there were multiple Earths. So how was the Huntress, daughter of Earth Two's Bruce Wayne and Selina Kyle, fighting crime with Batman and Robin? I didn't question the issue for long, because I was just happy to see all of these heroes on one show! I didn't understand that "Ghetto Man" was very offensive. I recently watched the first episode titled "The Challenge" on DC Universe. Even with a terrible plot, less than par costumes that cosplayers wouldn't be caught dead in, and a laugh track, Adam West still made it worth watching. And that's the power that he had no matter what part he played. – Kevin Gunn
And just a small reminder of his beloved cartoon roles, other than Mayor West):
The Simpsons – Himself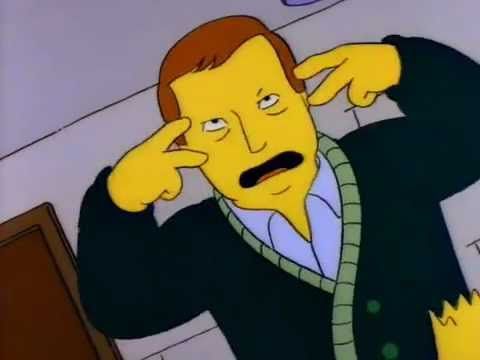 Johnny Bravo – Himself
Spongebob Squarepants – Mermaid Man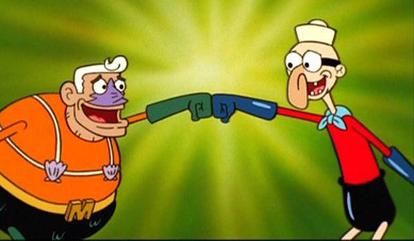 Fairly Odd Parents – Catman/Himself
Thank you for the millions of surprise smiles. Happy Birthday, our memorable Bright Knight!