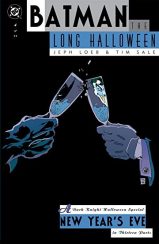 Writer: Jeph Loeb
Artist: Tim Sale
The Joker has stolen a plane, decorated it with a smile, and is threatening to gas Gotham City. Batman chases him down, exchanges banter, and attempts some heroic stunts along the way. It sounds like a swashbuckling adventure from the 1970's, but isn't actually the premise of chapter three of The Long Halloween, "News Year's Eve".
In a brilliant 30 pages, writer Jeph Loeb and Tim Sale give us batfans and exciting tale that reminds us of the good ol' showdowns between the Dark Knight and the Clown Prince of Crime. Their dialogue is also quick, funny, and true to their relationship. Joker is fed up with the Holiday killer (and jealous), so his brilliant (?) plan is to take out Gotham because surely the killer is gathered in the crowd on New Year's Eve, waiting for the ball to drop? Batman has a challenge ahead of him: find a way into the plane to stop the madman before the clock strikes midnight.
That section of the issue is very straightforward, and is a blast to read. But Loeb and Sale don't stop there. Story is key, and we must always be progressing. So, they fill us in on Harvey Dent, who's new assistant (also key in the future) discovers a past event tying Carmine "The Roman" Falcone and the Wayne family together.
Speaking of, on a yacht far away, The Roman is attending a fancy holiday party. One of the attendees? His chief rival, Salvatore Maroni (still healing from last issue's injuries). A seed is planted there that Falcone suspects Maroni a behind the killings, because they're completely one-sided. He delivers a great, chilling line, leaving us excited and nervous to see how this mob rivalry will continue.
Then Alberto Falcone is killed by Holiday.
Yikes!
Conclusion
This issue is a blast. My favorite rivalry of the Joker and Batman plays throughout most of the issue, reminding us of exciting action beats in their long history. Loeb and Sale sprinkle more interesting plot twists in to expand their narrative and voila, we have another great chapter of a great story. Happy New Year Gotham!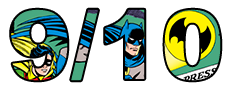 To check out our previous reviews on The Long Halloween chapter, click here