"A Knight in New York", Part Two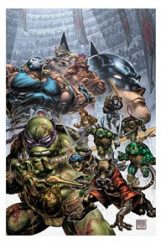 Writer: James Tynion IV
Artist: Freddie Williams II
(minor spoilers ahead)
Cowabunga dude!
The Dark Knight reunites with the Heroes in a Half Shell in Batman/Teenage Mutant Ninja Turtles II #2. Last issue ended with Bane in New York, and Donatello in Gotham. The fallout continues, as the crime fighters in Gotham track the final pieces to create a new portal that will take them to New York. After a few exciting pages, that's exactly what happens. We see the aftermath of Bane's destruction, with most of the city on fire. Meanwhile, what's left of Shreddar's clan have taken a knee to Bane, except for beloved TMNT villains Bebop and Rocksteady. No worries, those dimwitted devils come to their senses, bringing their new leader a key figure for their plan: Baxter Stockman.
This story created by James Tynion IV and Freddie Williams II is so joyful. They have combined two of my favorite worlds from my childhood in such a wondrous way, I feel just like I did those Saturday mornings watching these heroes take down the bad guys. I was blown away from their first series that launched in 2015, and the feeling continues with this run's 2 issues. Minus Shredder (at least for now), we've gotten most of my favorite characters from both series. I love how Tynion wrote in Batgirl for this issue and hope she sticks around. Damian, who I'm not a fan of, is tolerable, and Batman is ever the hero we expect him to be. On the other side of the shell, each member of the Turtle world is written to perfection. Leo is a leader, Donnie is smart but hesitant, Raph (my favorite) is a bit of a jerk and Mikey is awesome. This issue, Bebop and Rocksteady (finally!) appear, and they're worth the wait.
A slight nitpick. We begin the issue with the aftermath of a Batman onslaught, and a reunion with Ra's al Ghul. I wish we could have started with Batman taking down some ninjas, followed by a revealing splash page with Ra's. I understand what immediately follows is Donnie and Robin taking down Mr. Freeze in a few action-packed pages, but I think it could have been slightly more exciting to have this ninja fight kick off the book. Again, slight nitpick.
As for the art: tubular. I love the designs of these characters from Williams. The Turtles look perfect, a blend of bright and shadowy, mixing the fun with mature. His action and fighting are clear and detailed as well, easy to follow. A slight nitpick here is with Batman: sometimes he looks a little wide. Nothing major, and didn't really take me out of the story. I just noticed in one panel more than others. You could almost say the same thing about Bane, but hey, IT'S BANE! He's supposed to be huge. This book is supposed to be a continuation of the first series, and it looks just like it.
Conclusion
I'm loving Batman/Teenage Mutant Ninja Turtles II. It's exciting, funny, and charming. The book reminds me why I loved these characters as a child. Righteous dude!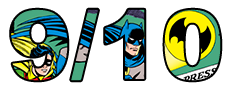 Images courtesy of DC Entertainment