"The Mourning After"
Writers: Amanda Conner & Jimmy Palmiotti
Artists: Bret Blevins, Otto Schmidt, Moritat
(minor spoilers ahead)
Jimmy Palmiotti and Amanda Conner really tone it down in their penultimate issue of Harley Quinn. After many issues with the pedal to the medal, we take 21 pages to really take a breath, reflect and think about the future. And it works wonderfully.
The book opens up at Mason's funeral. If you've been following the title, you remember how he met his tragic end. Damn corrupt Mayor (justice prevailed though). Here, Harley mourns with her closest friends. We mourn with her, and experience the different stages of grieving. It all really works (anger being my favorite), before she hits the road onto her next chapter.
I've thoroughly enjoyed the run of Harley Quinn with these writers. Having always been a fan of the character, I shouldn't have been surprised at how much fun I was having with the book. Though this issue isn't particularly fun, it's really good. You can experience the different stages of grief with Harley, definitely making me think of stages I've experienced before. Yes, on a completely different (and realistic) level, but ultimately grief is grief, and everyone will go through it at some point. Here, I was with Harley all the way. And it was lovely.
Three artists contribute to this issue. Bret Blevins has been a constant on the book, while Otto Schmidt and Moritat appear like newcomers. Their styles come together, rather than conflict. Sure, you can tell when pages have switched artists, but it's not too distracting. It actually works with the grieving story being told. Each stage sort of presents a different look, which makes sense. I think the scene in the graveyard stands out the most to me. While I find it a little dark, I enjoyed the sad, morose atmosphere that really clicked with the scene.
Conclusion
Not a crowd-pleaser per se, Harley Quinn #33 is a great issue. It tells a different story than what we've seen on the title, and was refreshing. I'm excited to see where Amanda Conner and Jimmy Palmiotti take us next issue, but am sad it'll be their last.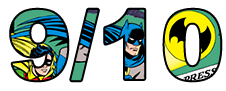 Images courtesy of DC Entertainment