"The Wrath Of Spoiler"
Writer: James Tynion IV
Artist: Carmen Carnero
After the roller-coaster ride that was "The League Of Shadows" Detective Comics #957's "The Wrath Of Spoiler" is a complete, and welcome, change of pace.
After her great work on issue #945, I was happy to see Carmen Carnero's name in the credits and on the cover. The last time Ms. Carnero drew 4 pages as part of a very well put together ensemble art team. When an artist has to draw part of an issue, trying to keep a similar style to the book as a whole, it's hard for them to put their own stamp on their work. On this occasion, she's handled the entire issue, and I'm very pleased with the results.
It's great to see female creators cutting loose, especially on headline and flagship books like Detective Comics. When an artist can handle action, drama, domestic scenes and emotion, it's a joy to behold. There are many out there who can draw fights and explosions, but Carmen's work in this issue shows depth, character, beautiful close-ups and butt-kicking action too. A great comics artist, in my opinion, should be able to draw more than just bulging muscles and action sequences. Carmen Carnero can draw anything.
Spoiler Alert
Beautiful artwork alone, does not a perfect comic make… oh, no. Many of the hit comics of the past had great visuals, but the plotting and dialogue were cringe-worthy.
Thankfully, Detective Comics is written by James Tynion IV.
It's clear to see in all his work that he is a fan of these characters, but rather than writing poor Tumblr fan-fiction, Mr. Tynion also understands these characters.
Spoiler left the team after witnessing what looked like the death of her boyfriend, Tim Drake, Red Robin. Yes, she's out of the group, but she's still fighting, she's being a hero and she's as sharp and smart as they come.
I tried to tell them. After Tim. After all of it.

We weren't saving anyone, we were magnets for (the) monsters. Every public beat-down, it encourages them.

And Batman – Bruce – just looked at me like I was crazy. Grounded me, like a kid.

But I'm also used to being on a team, having my back watched, leaping into the jaws of danger because I knew they'd be there to catch me. Not like any of the people we got hurt had that luxury.

Who's there to stop my friends when they go too far? To say how many losses are acceptable? Not me anymore. I gave that up when I saw the price that heroism really costs.
Brilliant.
Conclusion
Whether it's multi-issue story arcs or single issue character pieces, Detective Comics doesn't put a single foot wrong. I can only describe this run as consistently superb. Roll on issue #958.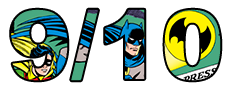 Images courtesy of DC Entertainment