"Dark Destiny" Part 1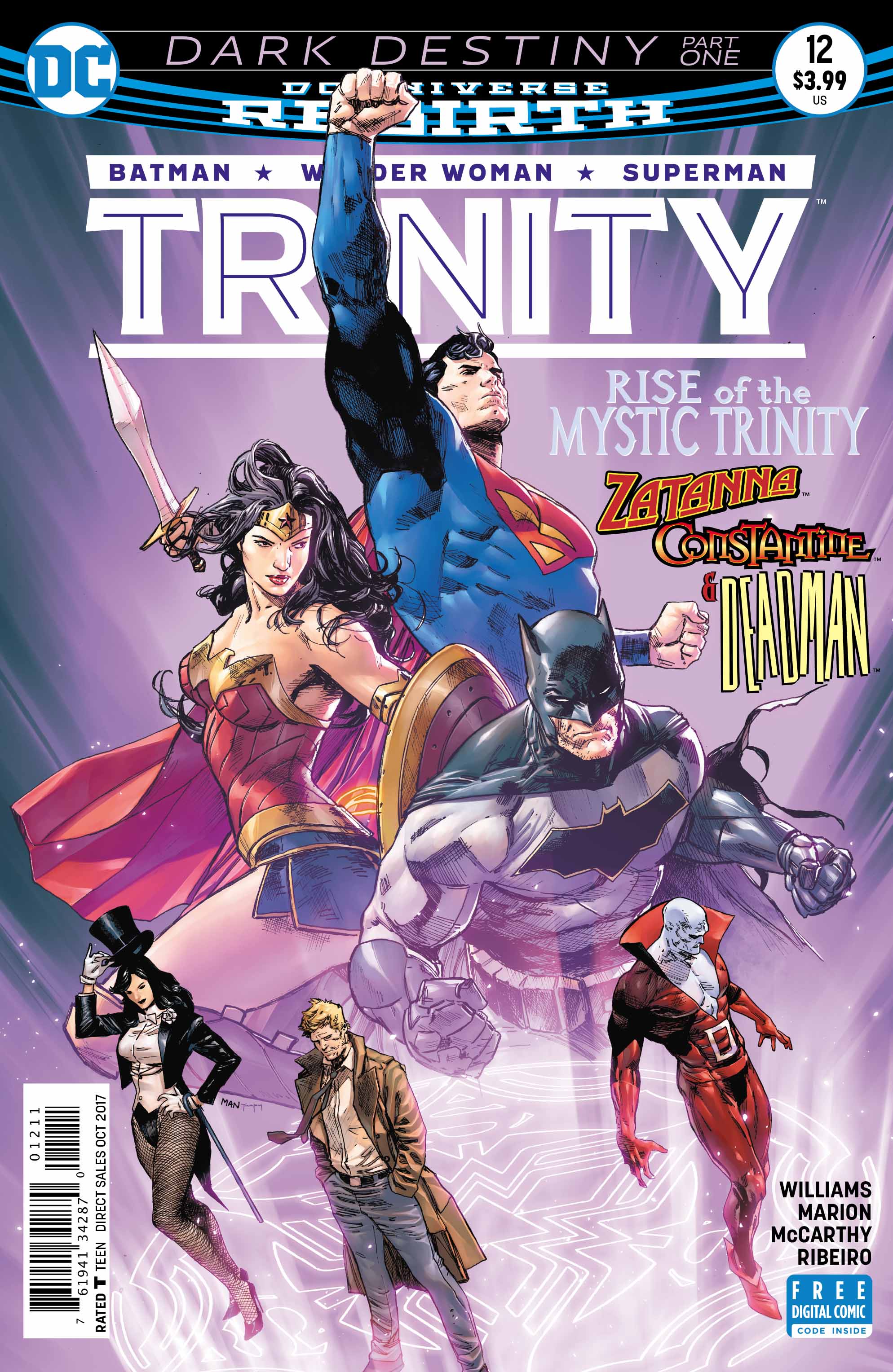 Writer: Rob Williams
Artist: V Ken Marion
Colorist: Dinei Ribeiro 
The Trinity is at a loss as they see Red Hood, Batman's second Robin, possessed by magic or a curse, something which all three heroes have difficulty fighting. Thus, we have some of Justice League's favorites: Constantine, Zatanna, and Deadman work alongside Batman, Wonder Woman, and Superman. Result: a fun issue as DC's OT3 asks Justice League Dark for help.
It's as if going back to an episode of Bruce Timm's Justice League. Constantine is charming, and seeing him with Bats is bound to be entertaining. Whenever I see a character light up as they greet the Dark Knight, they're an interesting character. Not many heroes are chirpy when they meet up with the Bat. Rob Williams has a strong knack for writing witty anti-heroes, I enjoyed his characterizations. Deadman has the chance to exercise his rare powers, and Zatanna demonstrates protection. The story feels otherworldly, but I like that.
The art is good, but the color is what makes the images memorable. Most expressions drawn throughout this issue is frustration; it's hard to find a panel where their brows aren't crossed. The cover is aesthetically pleasing though, it's always inspiring watching our legends drawn in a ready stance.
Conclusion
A fun issue if you enjoy the interactions. Banter amongst the Leaguers is one of my favorite DC tropes. The storyline is simple, but the (spoiler) appearance of Red Hood and the Outlaws places me at a loss. I'm still craving for more moments that will develop the bonds since the world's most powerful superhero Trinity has to be stronger than this.
Images Courtesy of DC Entertainment