Batman and Superman: Battle of the Super Sons is the 48th animated feature film from the DC Universe Animated Original Movies line. Directed by Matt Peters and written by Jeremy Adams. It features the voice cast of Jack Dylan Grazer as Superboy, Jack Griffo as Robin, Troy Baker as Batman, Travis Willingham as Superman, and Laura Bailey as Lois Lane. It's available on Blu-Ray from October 17th.
Synopsis
Jonathan Kent and his fellow reluctant young sidekick, Damian Wayne, are burdened with saving the world from impending doom. The two must join forces to rescue their fathers and save the planet by becoming the superheroes they were intended to be.
After so many years of producing high-end animated movies, one could wonder how Warner Bros. Animation would continue to raise the bar in terms of animation, storytelling, and voice casting. Such musings are, based on this latest offering, a complete waste of time. Batman and Superman: Battle of the Super Sons is as good, if not better, than anything released from the production line in recent memory. Every part of this movie is a home run, with so much to enjoy for long-time comic book aficionados and new fans alike.
For a movie with a run time of 79 minutes, a lot of narrative ground is covered. Full credit has to go to screenwriter Jeremy Adams, as he manages to provide the ultimate bang for your buck without making the movie seem overstuffed. Alongside the many super-powered action scenes, he allows for more character-driven moments that provide space to breathe and give an insight into the mind frames of our two young protagonists. Speaking of which, Adams has a perfect handle on the relationship dynamics of Masters Kent and Wayne.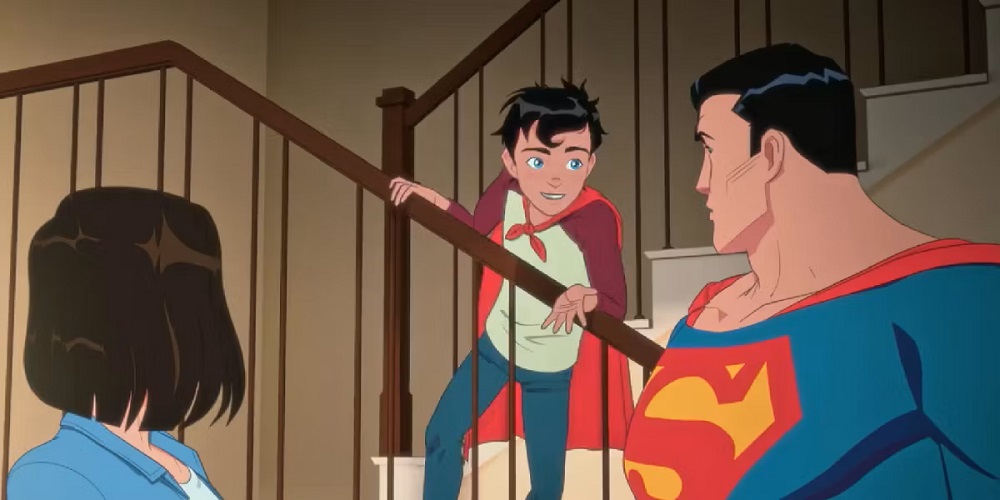 What starts as mutual antipathy quickly thaws and moves into BFF territory. One spoiled brat plus one earnest farm boy equals the next generation of The World's Finest Team. As the stakes get higher with every passing minute, the more these children step into their fathers' shoes with aplomb. No spoilers here, but what I will say is that once Starro The Conqueror enters the Justice League Watchtower, heroes are taken off the board at pace, leaving our young favorites to pick up the pieces.
The animation on offer is next level. Utilizing CGI technology has given the art team so much more scope to provide action sequences that would make Michael Bay proud. The camera moves around with a kinetic quality, the characters fight with balletic grace, and every blow that lands can be felt! When the sons take on their fathers, the action is as good as anything seen on the silver screen.
When Men of Steel take on Superboys, and Batmen take on Batboys experience usually triumphs, but Adams very cleverly switches the opposition up. Batman usually has the measure of Superman when they come to blows, but his inexperienced and idealistic son? That's a different story entirely…
As always with DC animated movies, WB has assembled a stellar voice cast. Jack Dylan Grazer, of SHAZAM! fame, is a brilliant Jonathan Kent. His unbridled joy at discovering his family lineage and powers of his own is infectious, as Grazer's enthusiastic performance is pitch-perfect. Jack Griffo's Damian Wayne is a darker, more cocksure character, with a haughty air that perfectly captures his sense of superiority over everybody he meets.
True to the source material, his softer, more sentimental side is always ready to come out too, and Griffo does a great job of softening his delivery at just the right times. Troy Baker and Travis Willingham are in fine form as Batman and Superman respectively, coming up with all the gravitas and charisma that we expect from the two biggest comic book characters of all time.
Conclusion
Battle of the Super Sons is a wonderful animated movie. The stakes are high, the action is mindblowing, the cast is perfect, and amongst all that, it also demonstrates real heart. This is an experience suitable for fans young and old alike, as it's easily of the best DC Animated Movies to date.
Don't believe me? Go watch it now!

Images and Preview Blu-Ray Courtesy of Warner Brothers Home Entertainment