"Sword Of Azrael" – Book Two
Writer: Dan Watters
Artist: Nikola Čižmešija
Color Artist: Marissa Louise
Letterer: Hassan Otsmane-Elhaou
Review by Steve J. Ray
Sword Of Azrael #2 is an action-packed, yet thought-provoking and fascinatingly cerebral comic. This title just looks and feels different from all the other Bat-Family books.
Last month's two introductory issues got my attention from the get-go. Dan Watters is writing a character-driven story that shows the power of faith and the danger of zealotry. As a fan of his incredible work on Lucifer, this doesn't come as a surprise at all.
Jean-Paul Valley is one of the most complex characters in comics, and his fractured psyche has fascinated me for decades. This new series could easily have followed on from the ongoing title, which ran for 100 issues between 1995-2003. I still own copies of every single one, which is why I had to read and review this new chapter in Azrael's life.
Nikola Čižmešija, Marissa Louise, and Hassan Otsmane-Elhaou are also giving us a comic that looks different from most other superhero books, in much the same way that Dan Watters is writing one. I respect people of faith, while also being terrified of how extremists, bigots, and people who have been indoctrinated twist and warp that faith. This series tackles all those issues, yet doesn't hit you in the face with them. Yes, in places this story is extremely deep, yet it's hugely entertaining at the same time.
Conclusion
Sword Of Azrael #2 is great. I love the way that, while it's wordier than many of its contemporaries, no line of dialogue is wasted, extraneous, or boring. The way Jean-Paul's inner monologue looks different from Azrael's, while they are two parts of the same person, is genius.
The highest praise I can give this book is that I truly believe Denny O'Neil would love it. This new chapter in Azrael's life will deservedly join Denny's on my shelves. Highly recommended reading.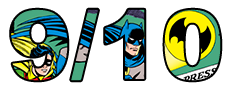 Images Courtesy of DC Entertainment