"Batman Vs Robin: Road To War"
Writers: Robbie Thompson, Peter J. Tomasi, and Joshua Williamson
Artists: Jesus Merino, Julio Ferreira, Javier Fernandez, Eduardo Pansica, Brad Walker, Andrew Hennessy, and Gleb Melnikov
Color Artists: Marcelo Maiolo and Dave McCaig
Letterers: Rob Leigh, ALW's Troy Peteri
Review by Steve J. Ray
"

Batman and Damian Wayne are once again butting heads after Bruce uncovers the missing Black Casebook pages in the clutches of his estranged son.
When the notorious Hush captures the entire Bat Family, the Dark Knight and the former Boy Wonder must put aside their differences to help Nightwing, Batgirl, Signal, Orphan, Red Hood, and Batwoman survive!




 


Batman vs. Robin: Road to War is a thrilling collection that contains stories from 

Batman

 #

106

; T

een Titans

#43-#44; Detective Comics #1032-#1034;

Teen Titans Annual #2

; and Robin: 80th Anniversary 100-Page Super Spectacular #1!

"
Batman Vs Robin: Road To War
Batman Vs Robin: Road To War leads into the brand new, eagerly anticipated mini-series, written by comics legend, Mark Waid. I was fortunate enough to read and review most of the stories collected in this volume when they were first released and seeing them collected in this lovely book made me very happy. The fact that one of my reviews is quoted on the back cover has made my year!
This collection's first set of stories comes from the excellent run of Teen Titans, which ended in November 2020. As I said in my review of that year's annual, the tales from the final arc of the series were:
"

Some of the finest Teen Titans stories I've ever read… and I've been enjoying their adventures for over forty years.

"
The book begins with Robin on a hunt that leads him to the KGBeast, the assassin who shot Dick Grayson (Nightwing) in the head, wiping his memory in the process. Readers really get the impression that Damian could cross the line to enact brutal revenge on the Russian villain unless his teammates can temper Damian's rage.
We find out very early on that Robin, after incarcerating some of the Titans' deadliest enemies, had actually taken the life of the cult leader, Brother Blood. This not only had the team chasing after the Teen Wonder, but his best friend Jon Kent was also on the hunt, as was a certain Dark Knight Detective.
I love it when Jon Kent – Superboy – interacts with his best friend and former partner, but sometimes there's just no talking to Robin… just ask the rest of the team!
I always knew that the Boy Wonder's actions would catch up with him eventually, and his attack on KGBeast is, sadly, very true to character, however, if you thought the Titans' reactions were strong, just wait 'til daddy dearest catches up with the boy!
Batman tends to take over any story he appears in, but Robbie Thompson weaves the Dark Knight's appearance in, building atmosphere and tension beautifully. The Titans get the lion's share of the action and are perfectly realized, characterized, and illustrated.
As soon as I saw Robin's behavior, knowing that he had brainwashed and tortured the criminals he kept there, I knew that Batman's wrath would be a sight to behold. I could actually see Robin taking down his teammates, but the Dark Knight is a whole different story.
After the tragic death of Alfred (Batman #77), Robin went down a path of self-destruction. Robbie Thompson wrote some truly heartbreaking scenes featuring the Dark Knight's butler, and surrogate father/grandfather to Batman, and all his "sons".
I'd wanted to believe in Damian for so long, ever since his debut, 15 years ago, in Batman #655. In that time the character's gone from being the spawn of assassins to a spoiled brat, then all the way through to repentant son… and hero. Did watching Alfred die before his very eyes finally break his heart, enough to turn him away from the light?
It's clear that Robin blames himself for Alfred's death at the hands of Bane, and the brilliantly written and drawn flashback scenes spread throughout the third chapter of this collection make this abundantly clear.
Yes, there is a fair bit of talking on these pages, but every line of dialogue is perfect, precise, and necessary. Action fans needn't be concerned, though, as things get physical very quickly, with Batman and the team being forced to try and apprehend, and subdue, the Teen Wonder.
I hate what's happened to Robin, but I can't argue with any of it. His arrogance has been part of his personality since day one, so, even though I dislike his life's direction in most of this collection, it all rings true.
Batman's reaction and behavior in the story, however, is the real revelation. Again, I don't like seeing father and son in this light, but I don't see how else things could've gone down. I watched Bruce Wayne's relationship with Dick Grayson collapse, then get built back up, slowly but surely over the decades, and expected a similar journey for the caped crusader and his son. What I didn't count on was the fact that Batman has clearly grown as a character, and learned from the mistakes he made with Dick, Jason, Tim, and Stephanie.
The scenes between the Dark Knight and his son in this book are brilliantly written, exquisitely drawn, and completely heartbreaking.
The next part of the saga, from Detective Comics, sees Nightwing, Red Hood, Signal, Orphan, and all of Batman's lieutenants captured by Hush, and what he has planned for them has been arranged with surgical precision… quite literally! Yes, Bruce Wayne's childhood friend turned mortal enemy, the man who once shared his face and stole Catwoman's heart, has returned.
Writer Peter Tomasi's imagination in this story's incredible, as the villain's plan is nothing short of (evil) genius, and so perfect for Tommy Elliot's character. The plot develops even further with the new wannabe mayor, Chris Nakano, really not seeing eye-to-eye with Bruce Wayne. Plus, the Dark Knight finally catches up with Damian again, and sparks fly!
Tomasi's take on the Batman/Robin relationship is fantastic, and his insights into the psyche of this amazing father/son team are beautiful. Even after everything that's happened I have no doubt that Damian will always be there for his father, and his brothers. The way things end between him and Bruce in these chapters is grade A, first-rate, fantastic.
The fact that we see some real thought put into how someone like Hush can stand almost toe-to-toe with the Dark Knight in hand-to-hand combat, is also extremely clever. No, he hasn't had the decades of training that Bruce has, but the fact that he's a surgeon, and his intimate knowledge of human anatomy is brought into play is just genius writing.
The final two stories in this terrific book lead directly into the current, excellent, ongoing Robin title. Here we see a family reunion between Damian Wayne and his dear mother, Talia al Ghul. As is often the case with their bloodline, it isn't long before violence ensues. The blissful family reunion is crashed by outside forces, however, and at first, shows Damian seemingly looking to re-embrace his heritage.
Joshua Williamson is one of DC's best writers, and the fact that he wrote the two great prologues that led to his ongoing Robin book, was great.
Conclusion
Batman Vs Robin: Road To War is an action-packed collection for sure, but it's also a book filled with character, heart, and some truly first-rate storytelling. I've read issue #1 of Mark Waid's Batman Vs Robin mini-series and it follows on from this book beautifully.
If you're as much of a sucker for this kind of event as I am, then I also recommend grabbing the books that collect Josh Williamson's Robin, and the entire "Shadow War" saga. If time and funds do not permit this, however, then Batman Vs Robin: Road To War is the only real primer you need.
At the back of the book, we get a preview of the covers and some black and white art from the forthcoming mini-series, drawn by the brilliant Mahmud Asrar!
Buy this book!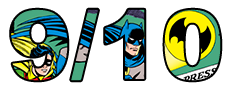 Images Courtesy of DC Entertainment