San Diego Comic-Con is just around the corner and DC Comics has just unveiled their new convention bag that also reveals the new Batgirl and Blue Beetle movie costumes! What a way of welcoming Leslie Grace and Xolo Maridueña to the DC Universe!
With Warner Bros. recently announced plans for the annual event, we should also be seeing more of what they have in store for upcoming projects. This year's convention bag also features art by DC Chief Creative Officer and Publisher Jim Lee.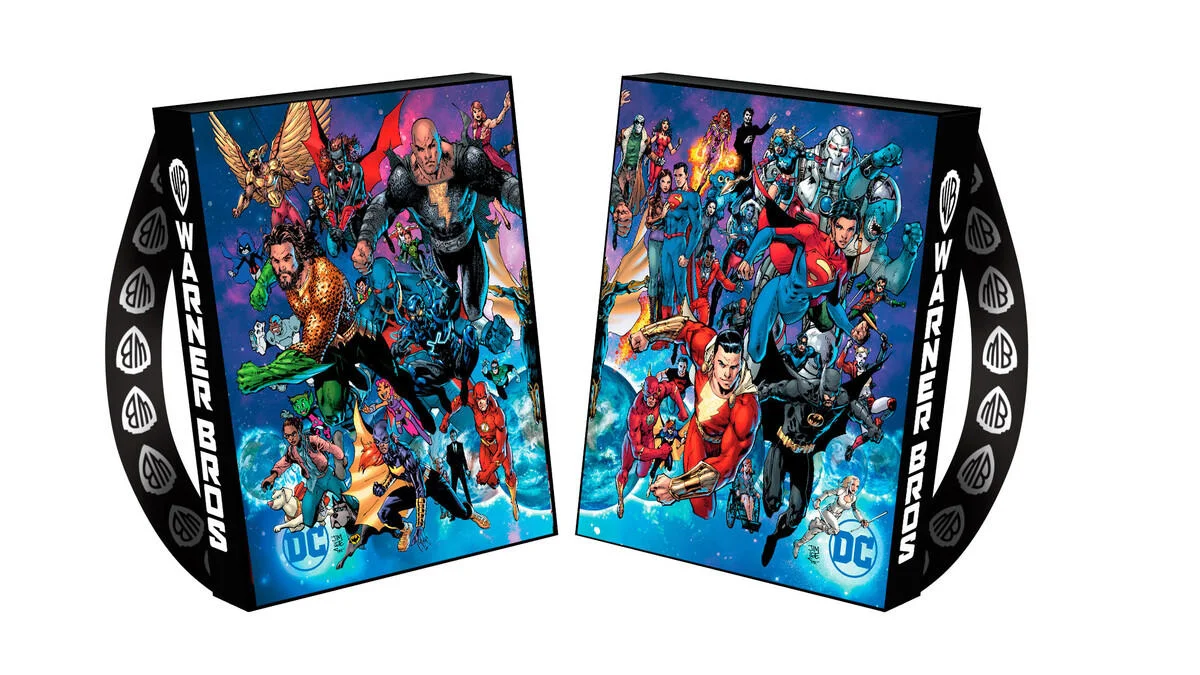 While not much is known about the Blue Beetle movie, because they only started filming in May, Batgirl is due to release any month now. We have also been treated to teasers along the way by Grace herself, as well as behind-the-scenes moments, like Brendan Frasers' Firefly causing chaos and lighting up Gotham, the only way he knows how.
Grace told Variety in an interview that she reached out to Maridueña after they'd both been cast in their respective movies, saying:
It's like almost a little overwhelming and hard for your brain to catch up to the magnitude of what it is that you're doing that it almost feels like it's happening in a vacuum. I was just like, 'Oh, man, I hope I can do this. Am I in the club?' I almost felt like the whole time I had some imposter syndrome. You want to earn your place.

Now that you're mentioning it, I'm going to slip in a few DMs and ask 'Hey, what was your experience?' I did reach out to Sasha Calle, who is Supergirl in The Flash. I'm hoping that we get to meet soon because we're part of the new gen. I did reach out to Xolo Maridueña, our Blue Beetle. He is freaking awesome. I'm so happy for him.
Batgirl will follow Leslie Grace's Barbra Gordon (Batgirl) as she learns to be the hero we know her to be. The film will also see JK Simmons stepping in to play Commissioner James Gordon once again, Michael Keaton reprising his role as Bruce Wayne (Batman) after many years, and the beloved Brendan Fraser playing Garfield Lynns (Firefly), the main villain. We'll also see Ivory Aquino as lysia Yeah, Jacob Scipio, Rebecca Front, Corey Johnson, and Ethan Kai.
For Blue Beetle, we know that Xolo Maridueña will play Jaime Reyes (Blue Beetle), Susan Sarandon will be Victoria Kord, Bruna Marquezine is Penny, Belissa Escobedo, George Lopez, Adriana Barraza, Elpidia Carillo, and Damián Alcázar will play various Reyes family members, and Harvey Guillen will appear in an as-yet undisclosed role.
Will you be attending the San Diego Comic-Con this year? If so, will you be keeping an eye out for DC's new convention bag? Tell us in the comments.
Source: ComicBook
Images May Be Subject To Copyright