"Sins Of The Father"
Writer: Adam Glass
Artist: Bernard Chang
Color Artist: Marcelo Maiolo
Letterer: Rob Leigh
Review by Sam McTernan
Teen Titans #36… wow! What an issue! Speaking of issues, Adam Glass has hammered home one of the biggest universal dilemmas you could potentially face, your own family. It's an interesting one for sure. We've all no doubt had the internal family debate, almost certainly … no, definitely as a teen. Now, what if your old man is Lobo? Well, dear readers, that's an entirely unique problem to have.
There's certainly no love lost between Crush and her father.
All in all all this chapter confirms is how messed up Lobo is as a character. Surprisingly, he's an a even worse father! One thing I do love about him though, is how brilliantly Chang draws him. His artistic style is ideal for such a character. I particularly like the physical contrast between Crush and Lobo, whilst simultaneously showing off their similarities. It's a fantastic visual representation.
Talking about love lost, we get to see the huge backlash of Roundhouse's shocking actions (still reeling from that surprise). Although the team have dealt with the internal struggles of trust more than once, this is by far the most brutal, and also the most shocking. The fate of D'Jinn is unknown, the team is broken, Roundhouse is literally falling apart. The physical appearance of Roundhouse is yet another brilliant visual, as well as a clever metaphorical representation of the larger story.
Conclusion
I love this series, it's constantly challenging itself to become more shocking, bold, artistic and ultimately believable. The art is consistent and represents all the facets of Glass's writing perfectly. Teen Titans #36 was a great issue, and it left us with an almighty cliff hanger! I cant spoil it, but next month we'll be treated to massive reveal.
I cant wait!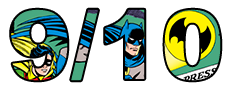 Images Courtesy Of DC Entertainment