"Medieval" – Part Four
Writer: Peter J. Tomasi
Artists: Brad Walker and Andrew Hennessy
Color Artist: Nathan Fairbairn
Letterer: Rob Leigh
Review by Steve J. Ray
Detective Comics #1004 gives us the origin story of the all-new Arkham Knight, and what a tale it is! The revelation of her identity in the last issue was intriguing, but her backstory is as enlightening as it is shocking.
I have to say that I am loving this creative team. The writing and art on this book has been absolutely top drawer for 11 issues straight, without any signs of letting up. Peter J. Tomasi has created a new nemesis for Batman who is not just a physical threat, but is as smart as they come. The parallels between her genesis and that of the Dark Knight himself are inspired, and fascinating.
I'm not going to give anything away, as I really think that any fans of the Arkham Knight video game, as well as comic book readers everywhere, need to pick up this series.
A Hard Day's Knight
Brad Walker and Andrew Hennessy are killing it. Check out the lovely pages DC have given us as visual validations of this statement. Their Batman is a wraith and a gargoyle, while Astrid is depicted as an angelic, heroic, vision of purity. The truth behind both characters, however, probably lies somewhere in-between. There are beautiful moments depicting Astrid's formative years, coupled with some butt-kicking action scenes too. The issue balances conflagration and emotion brilliantly.
Color and lettering artists Nathan Fairbairn and Rob Leigh are superheroes too. Check out the opening spread from pages 1 and 2, with the spotlights, smoke and that gorgeous title logo. Then, look at the way both talents frame Astrid Arkham's tale on the pages that follow. Leigh's lettering placement flows with the art, and Fairbairn's use of softer, cooler colors in the centre of the pages, framed by the more pronounced oranges/reds, strategically placed, frame the line art beautifully, drawing the readers' eyes to key moments. This is terrific storytelling.
Conclusion
If my maths are correct, Astrid Arkham is between 15 and 18 years of age. This clearly means that Batman has been fighting crime for close to 20 years in Gotham City at this stage in his career. This, in itself, is another mind-blowing revelation. Peter J. Tomasi and his collaborators are creating great entertainment, but also adding richness and cohesion to the complex mosaic that is Batman's long, and storied history.
Detective Comics #1004 was another stellar issue, and I'm loving this series right now.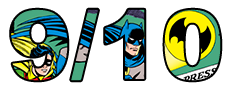 Images Courtesy Of DC Entertainment