"The Bleeding Edge" Part Two
Writer: Benjamin Percy
Artist: Chris Mooneyham and Klaus Janson
After the events of issue #44, where we see Nightwing having some serious technical troubles, #45 jumps straight into the action as Dick Grayson is recovering from a night he doesn't remember. We, as the reader, go on a journey with Grayson as he tries to figure out what's happening in Bludhaven.
When a workout with a client takes an unexpected turn, Nightwing contacts one of the few people he can trust. Only to find out that he might not be able to trust them after all! Twists and turns litter this issue as we come close to, what I can only imagine will be, a thrilling conclusion.
The Best Around
Everything I'm reading from DC at the moment is fantastic. Nightwing is no exception, Benjamin Percy has done an excellent job with the last two issues. The story is gripping, from first panel to last. We're taken on a mystery as Percy writes an enrapturing story, dropping tantalising clues and names for the future.
Then we have the last page. The reveal. The cliff hanger. My goodness I can't wait for the next issue.
Conclusion
The creative team working on this run of Nightwing are doing an excellent job. Seriously, I cannot give enough praise to Percy and Mooneyham. They are doing a sublime job on this run and I look forward to seeing their run extend beyond this story arc.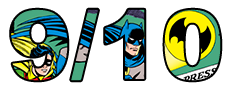 Images Courtesy of DC Entertainment