"Defunded" – Part Two
Writer: Dennis Hopeless
Artists: Jesús Merino, Eduardo Pansica, Julio Ferreira
Color Artists: Matt Herms, Marcelo Maiolo
Letterer: Wes Abbott
Review by Adam Ray
Task Force X meets its fateful in Suicide Squad #15. Their hair-brained plan, concocted at the end of the previous chapter, has been put into play, as they try to enforce their own change in management. The punchy nature of the issue reads a little differently from the rest of the run, but it adds a lightness to the proceedings that we should appreciate from a series that's drawing to a close.
This issue is an artistic treasure trove. On the opening page alone, you'd be forgiven to think what you're seeing is just a static conversation. It's not. Look at the storytelling in the movements in the background. When you couple that with highly detailed character portraits of Rick Flag mirroring Leo DiCaprio's Great Gatsby, we're rewarded with jokes with ties both in and out of this issue.
Suicide Squad #15 is one of the best structured single issues I've read in a very long time. It has the elements of a heist movie, we see our main characters hatching their plan, then every step goes "wrong" as they try and fail to get Lex Luthor's attention. As the story unfolds we get more and more detail, all wrapped up in detailed action and the consistent witty repartee of the characters. Even at the end, Hopeless has created a strong look at the characters and where they've ended up.
Task Force Axed
It's no secret that Suicide Squad was intended to have a much longer overall run than the one it received, and that's why the final title, Defunded, is so funny. We can truly count on any Suicide Squad title to show a little irreverence in the face of management.
It's also no secret that this current run of Suicide Squad was meant to at least run parallel with the film starring Idris Elba's Bloodsport and John Cena's Peacemaker. Those characters were given a great deal of time and attention in this title; their disagreements were highlighted and their tension was used well when it was necessary. Suicide Squad is fundamentally a team story, and this title exemplified that. We got multiple, well-handled characters, each showing their full range of realistic characterization. No one, not even super-powered people, respond well to being enslaved by a vague yet menacing government agency.
One of the things that delighted me most about this title was how well it committed to the opposite expectations I had about what Suicide Squad Comics could be, but probably always were if we were taking The Suicide Squad movie as a reference. They made a lot of effort to be cosmic and bizarre. These fifteen issues saw Task Force X jump constantly between worlds and deal with threats that were alien, supernatural, and domestic. With this change in conflicts and struggles changing partway through a page, let alone an issue, most artistic teams may have struggled with keeping up with the action. This complete run of Suicide Squad has met the challenge every single time bringing some of the most well-rounded action and character interaction in recent comics.
Conclusion
All stories must end, but the familiarity in form, as well as the nuance in how the characters have been handled, has set this run of Suicide Squad above a lot of the rest. It takes a talented creative team, that can depict all kinds of conflict on the page, and write all levels of characterization, to turn a fairly light title into one that delivers drama and depth to the Suicide Squad. Any team handling Taskforce X should look to this run to see how action and drama can masterfully come together.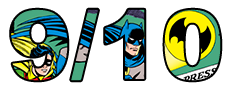 Images Courtesy of DC Entertainment