Catwoman: Hunted
Writer: Greg Weisman
Director: Shinsuke Terasawa
Starring: Elizabeth Gillies as Catwoman, Stephanie Beatriz as Batwoman, Johnathan Banks as Black Mask, Keith David as Tobias Whale, and Johnathan Frakes as King Faraday.
Review by Max Byrne
Catwoman: Hunted is the 44th installment in the DC Universe Animated Original Movies line. Available on DVD, Blu Ray, and Blu Ray Steelbook on February 7th, with a digital release on February 8th. Please visit https://shop.warnerbros.co.uk/pages/search-results-page?q=hunted to order.
For those out there whose affection for DC Comics' flagship feline is equaled by a love of all things anime, then Catwoman: Hunted is a dream come true. By adopting this Manga-style animation technique, DC Animated Movies have managed to make film number 44 feel different from all that has come before. A fresh coat of visual paint coupled with a very adult tone suits this movie down to the ground. Its 15-rated certification is richly deserved, as a combination of brutal violence, blood, and sexual tension renders this strictly adults-only fare.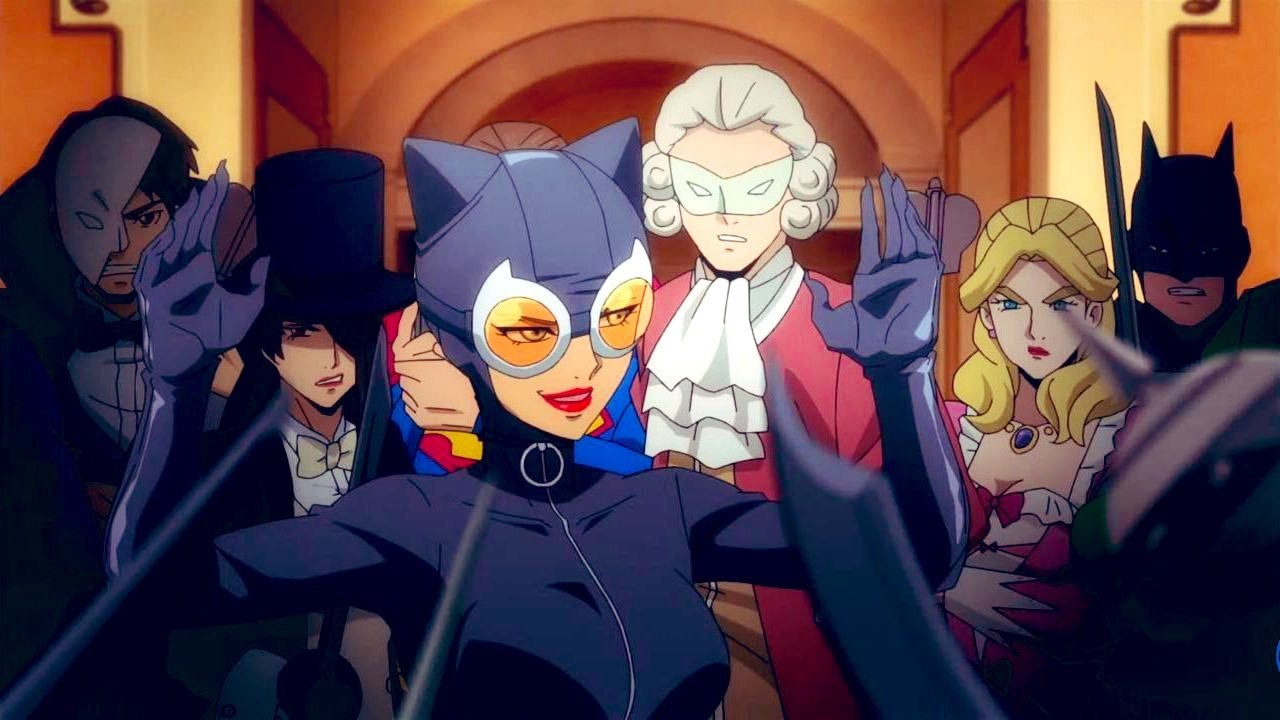 The adult tone works on all levels, as the sense of danger is truly palpable throughout. This is a world of violence, threat, and murder, with a generous side order of skulduggery. Fights are not contested by Queensberry rules here, oh no! Anything goes, with several characters meeting their end in increasingly bloody ways. Huge kudos must go to the animation team, as the fight scenes have a kinetic grace that makes them become a brutal ballet of sorts. A cavalcade of DC's greatest scumbags all line up to join in the proceedings, including such names as Tobias Whale, Cheetah, Black Mask, Boss Moxie, Nosferata and many more all make their presence felt.
The voice cast is, as always, highly impressive. Elizabeth Gillies makes for an excellent Catwoman, bringing all the elements of Selina Kyle to the fore. Mixing extreme confidence with moments of genuine vulnerability, her vocal style fits the character like a glove. Equally so is the casting of Stephanie Beatriz as Batwoman, as her Kate Kane is a hard-hitting, take no prisoners type of crime fighter. She's all business, save for some intimate moments with Selina behind closed doors. The supporting cast is also inspired, with genre favorite Keith David proving to be the quintessential Tobias Whale. Other well-known geek favorites such as Johnathan Frakes and Lauren Cohan add gravitas to small roles, giving the cast true depth.
The script and the score are also first-rate and work extremely well. The former, written by Young Justice creator Greg Weisman, is efficient, fast-moving, and doesn't oversaturate the plot with elaboration. Keeping the action ticking over at a fast pace allows the viewer to feel that this is a race against time to stop Leviathan, with pauses for exposition dumps kept to the bare minimum.
The score by Robert J. Kral is a unique beast, with its jazz-based motifs and unorthodox nature really adding something to the mix that's different from the norm. If anything, it effectively adds to the chaotic sense of the world that Weisman's script and the direction of Shinsuke Terasawa are trying to portray. This music is offbeat, improvisational, and contains time signatures that require a calculator to figure out. As a long-standing prog fan, I loved that! Such breaks from the norm are most welcome in my eyes.
Conclusion 
Catwoman: Hunted is a worthy addition to the DC Animated Original Movies slate. It's quirky stuff, that, whilst not strictly perfect, finds its niche and manages to look, sound, and feel different from its peers. This iteration of Catwoman feels as though it has mileage in it, and a sequel could be a wise decision.
As the character is about to receive a new live-action incarnation in The Batman, Selina will be a hotter property than ever, so this movie is a perfect example of striking while the iron is hot. Any fan of the character should certainly check it out.

Images and Review Copy Courtesy of WB Home Entertainment