"Batman: The Imposter" – Book One
[ Editor's Note: This review may contain spoilers]
Writer: Mattson Tomlin
Artist: Andrea Sorrentino
Color Artist:
Review by Carl Bryan
Summary
Alright… let's think about what we really know about Batman.

–

Detective Wong
In Batman: The Imposter #1, Bruce Wayne's mission as the Batman has only been underway for a year or so, but he can tell he's making a difference. Unfortunately, he's also made some powerful enemies. All the traditional power brokers of Gotham resent the disruption the Batman has brought to town, and it seems one of them has a plan to neutralize him. There's a second Batman haunting Gotham's rooftops and alleys, and this one has no qualms about murdering criminals, live and on tape.
With the entire might of the Gotham City Police Department and Gotham's rich and powerful coming down on his head, Batman must find this impostor and somehow clear his name… but how can you prove your innocence from behind a mask?
Director and screenwriter Mattson Tomlin (Project Power, Little Fish) has teamed up with Eisner-winning suspense and horror artist Andrea Sorrentino (Joker: Killer Smile, Gideon Falls) to create a wholly new version of Gotham City, informed by grim reality, where every punch leaves a broken bone and every action has consequences far, far beyond Batman's imagination!
Mattson Tomlin takes the question of 'What if Batman was real?' as far as narratively possible and in doing so has conjured incredible potential that hasn't recently been explored in the comics. Batman: The Imposter #1 treats Bruce Wayne and the people around him as tragically flawed and vividly real, with the obstacles Batman faces coming from a reality that closely mirrors our own.
Inspired by the 1989 cinematic version of Batman, Mattson Tomlin has taken pulp noir to a new level in Gotham, having to deal with the fallout of having a vigilante on the loose in its city.  We are introduced to two strong female leads in this book… Dr. Leslie Thompkins, a psychologist who plays a pretty prominent role in establishing that Bruce is on a mission to really kill himself or to instill fear into the criminal side of Gotham. Then there's Detective Blair Wong, a cop on a three-year investigation of this mysterious Batman, and it doesn't look good on the inside of the department or outside among the political leaders.  
This book is Black Label Royalty already.  It's tweaked just enough to where this Batman's life could really happen.  No superpowers, a mention that Alfred has abandoned Bruce, and an injury every night. There's also mention of clowns, and there's no Jim Gordon as an ally in this version of the GCPD.  This is raw Batman!
The colors, the grit, the seriousness of the art Andrea Sorrentino is contributing to the Batman landscape compliments the script that Tomlin weaves to the fullest. It reminds me of some of the Blade Runner work that's being written now in comics, as well as some earlier Spawn issues where the night rules and the underbelly of the crime world's visible at every turn. If you like psychological police thrillers with a diverse cast, then this is the Batman book for you!
This is both cinematic and pulp noir material, it's real and gritty. While Frank Miller had his treatment of Batman, but I daresay there's a new person giving a lens to Batman that we have not looked through yet… Mattson Tomlin.
Conclusion
This first chapter of this three-issue event is going to be worthy of some space on your bookshelf.  I love the tweaking of the story. The lenses of both Detective Wong as well as Dr. Leslie Thompkin, both provide a new view of Gotham's vigilante hero. They're two strong female protagonists trying to heal their city in their own way!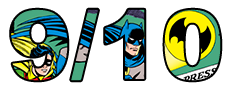 Images Courtesy of DC Entertainment