Writer: Ed Brisson
Artist: Rosi Kampe 
Color Artist: Mico Suayan & Romulo Fajardo
Letterer: Simon Bowland
Review by Sharna Jahangir – This review contains minor spoilers.
What's in a name? In Batman: Secret Files: Clownhunter #1 we're given a narrative of Bao Pham, the titular Clownhunter. Some fans may not be as familiar with him as other members of the Bat-family, being a newer character in Gotham's hero/anti-hero gallery. He doesn't work officially under Batman either and was introduced by writer James Tynion IV and artist Jorge Jiménez last year. His mission is clear, hunt down clowns… it's in his name.
The Story
Clownhunter's origin story is gently re-told in this issue. His parents were killed by the Joker, so he's dedicated his life to ridding the city of the villain's henchmen, who often dress up as clowns. The main antagonist of this issue is a character calling himself Sol. Bao Pham has been slowly hunting him down, and writer Ed Brisson does an interesting, phenomenal job of paralleling the hunt for Sol to the upbringing of Bao Pham. The switching back from present to past is very well done, as it gives us an insight into his mind. He carries an extreme anti-hero aura, with values that are very different to Batman's. He kills, and in his mind he finds no moral issue for this, but that doesn't mean he's uncaring. The writer and artist demonstrate that he cares about the city a great deal.
If you're interested in seeing more of Punchline, this issue's a treat. The writer comparing Pham's vision to that of Gotham villains brings the reader back to why Batman doesn't support vigilantes or anti-heroes who kill, but Ed Brisson brings up the common and interesting dilemma, second chances are understandable, but are third and fourth? When does it end when it comes to giving a person a chance at redemption? It's difficult writing a new character in an extremely established universe, but I was captivated by the story, as the writing contained fun similes and some angst. Warning, Clownhunter is severely beaten, and it's not a position we often see heroes in. I felt helpless for the character.
I did give a chuckle when Punchline asked:
What is it with this town and orphans?" …ah, you and your bad guys keep killing off the parents, of course Gotham city is riddled with orphans!
The Art
The art follows the narrative in a very fun way in Batman: Secret Files: Clownhunter #1, and I love the costume design for the character . I appreciate that though there's a great deal of violence, it isn't exceptionally gory. The explosions are beautifully portrayed – a difficult task – and artist Rosi Kampe certainly brings their A game to this issue. Mico Suayan and Romulo Fajardo deliver eye-catching colors too. Clownhunter's suit carries a vibrant red, and the color matches his aura and personality perfectly. It can be noticed that the character has a lot of anger from his upbringing, this matches the fire, blood, violence in this issue. He has a lot of healing to do, and he could be another perfect orphan for Bruce Wayne to adopt.
The heavy imagery of clowns is fun as well, as they can be deceptively evil… as we know from the Joker, Punchline, and from Stephen King's It. Their bright colors represent trust, innocence, and childhood, but it's so easy to take that away as we know from many of Batman's Robins and Batgirls. The colors used for the fight scenes versus the flashbacks, which use friendly, childhood-like colors are alluring. The characters the Secret Files series has highlighted so far suffer from great loss and are at times treading a fine line between good and bad.
Conclusion
As I mentioned, it's difficult writing in a new character, but the thought process, paralleled with the back and forth between the flashbacks and our hero's hunt is captivating. I was taken in by the story, and felt sad for the character at the end. The way things are left could really provide him with more fun stories in the future. If you'd like to see more of Punchline, check in on the current state of Gotham City, and learn about a character who was introduced a year ago into Gotham, then pick up a copy of Batman: Secret Files: Clownhunter #1. He seems like a perfect match for the Bat-fam… an there's a fun family member cameo at the end!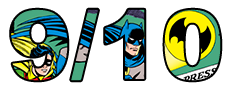 Images Courtesy of DC Entertainment