Article by Adam Poncharoensub
It's the holiday season and that means you should probably start looking forward to San Diego Comic-Con next summer. While that was a tongue-in-cheek stab at today's story, it's still probably not a bad idea to start planning. SDCC is stressful and you definitely want to be prepared. However, Sideshow Collectibles and DC are definitely already looking towards new merchandise to be available by then. They're not SDCC exclusives, but they will be out around the same time. You can now pre-order two new mini-statues, one for Nightwing and the other for the Dark Nights: Metal Batman.
These two mini-statues will be a part of the DC Designer Series, which feature recreations of legendary designs of characters from fan-favorite stories. Both statues are re-releases in the line, but smaller in order to fit more display cases, and cheaper in order to fit most wallets
First off, let's talk about this Nightwing statue, that is lifted from Jim Lee's pages from the iconic Hush arc.
Take a look: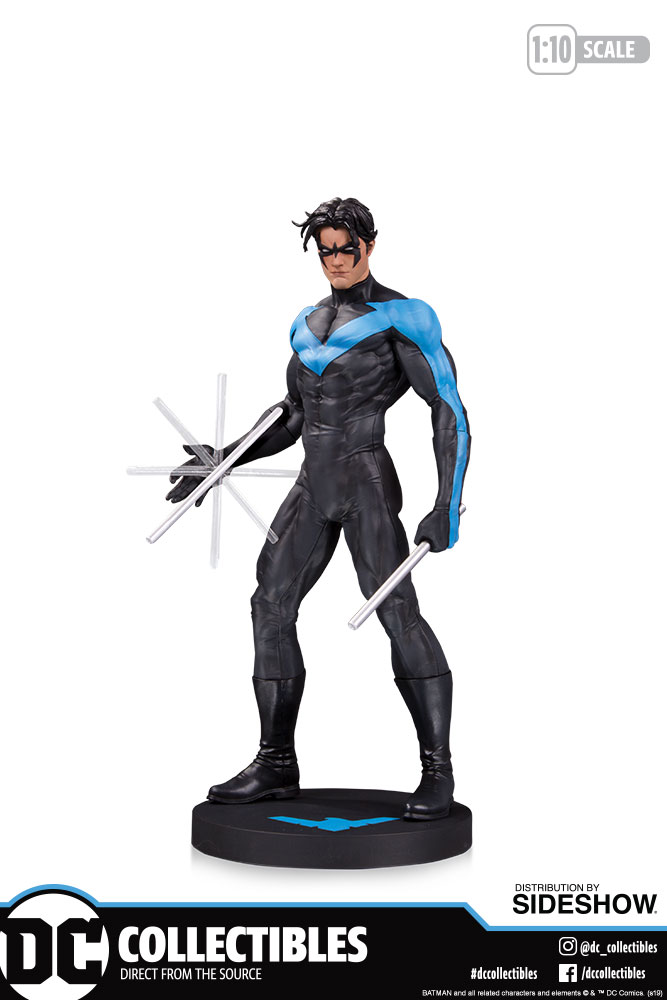 Standing at nearly 8 inches tall and made of polyresin, this statue lovingly recreates Jim Lee's incredible design of Nightwing. What's a pretty nice touch is the spinning escrima stick, using translucent materials to achieve that effect.
For more technical aspects of the statue, see below:
Materials: Polyresin
Product Size: Height: 7.44″ (188.98 mm)
And lastly, we have Greg Capullo's incredible take on the Bats from the insane Dark Nights: Metal event that ran from 2017 through 2018.
Take a look:
A recreation of the Dark Nights: Metal #1 Midnight release variant cover (and possibly the only cover from that run that I committed to memory), but smaller at just below 7 inches tall. Also made from polyresin and another great addition to the collection.
Here are more technical specs for you:
Materials: Polyresin
Product Size: Height: 6.48″ (164.59 mm)
Nightwing can be pre-ordered here, while Batsy can be pre-ordered here. Priced at $95 and expected to ship on July 2020. Limited to 5000 units each, you better grab them quickly.
Dark Nights: Metal is available to read on DC Universe now. The Batman: Hush animated movie is also available to watch on DC Universe. Check out our review here.