"Drowned Earth: Finale"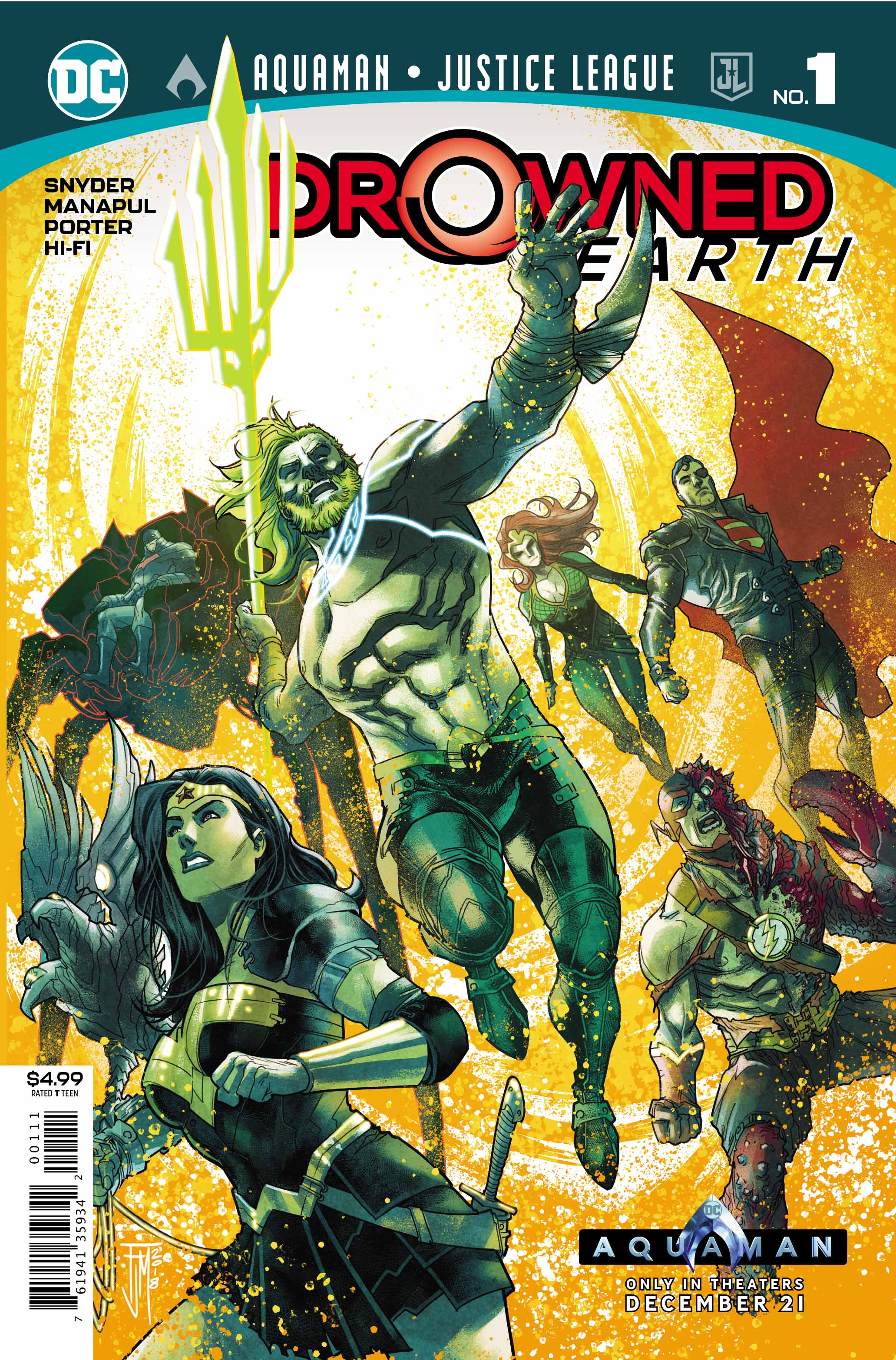 Writer: Scott Snyder
Artists: Francis Manapul, Howard Porter & Scott Godlewski
The tides finally turn in this week's Aquaman/Justice League crossover, as "Drowned Earth" comes to an end.
For the past few issues, "Drowned Earth" has followed three main plotlines, all of which converge into an epic crescendo in this finale issue. The story opens with Mera, Superman, and the Flash fending off an onslaught of aquazombies in the Tomb of Arion. Having acquired Arion's Tear of Extinction, the weathered trio manages to escape. Aquaman and Wonder Woman arrive in the nick of time to rescue the dwindling team.
After regrouping, the meager Justice League set sail for the towers of Atlantis. These legendary towers are actually rockets designed to pierce the dome of the attacking sea gods. However, things get hairy as the aforementioned sea gods unleash a massive space Kraken of death. "Drowned Earth" climaxes, as Aquaman and team square off against this Kraken along with Black Manta and an army of aquazombies while Wonder Woman continues on towards Atlantis.
Superb Scripting
Scott Snyder's return to the title is noticeable – especially after last week's lack-luster Justice League #12. Synder does an amazing job wrapping up these storylines while seeding plot points for events to come. The resolution of the Black Manta/Aquaman arc has major implications for both Aquaman but Justice League. Essentially, Aquaman/Justice League Drowned Earth #1 ends on a brilliant cliffhanger, leaving the fates of both Manta and Auther in question.
Also, as one would expect from Snyder, Batman has an epic moment where he assists Wonder Woman in her battle against Cheetah. For those who are a fan of Snyder's Batman run, these panels deliver a wonderful, fist-pumping moment.
An Artistic Bounce-Back
Aquaman/Justice League Drowned Earth #1 is a good looking book compared to last week's Justice League #12 fiasco. This final issue returns to the hyper-detailed style established in the earlier installments of "Drowned Earth".  Artists Francis Manapul, Howard Porter, and Scott Godlewski work lock-step with each other, producing an aesthetically consistent issue. While each artist's style is unique, they blend well together unlike Justice League #12's Frazer Irving and Bruno Redondo collaboration, which moved from generic comic book style to an LSD laced nightmare.
Conclusion
"Drowned Earth" has been a wild ride. The creative minds behind this story have accomplished their goals. They have set up Aquaman for its new writer, Kelly Sue DeConnick, while progressing the plot of Snyder's grand Justice League story. Although "Drowned Earth" has been slightly inconsistent in terms of quaily, the best aspects of this story are exemplified in this final issue. Aquaman/Justice League Drowned Earth #1 is a well-crafted conclusion that highlights both the skill and creativity of the creators involved. It's definitely worth a read.

Images Courtesy Of DC Entertainment