"The Brave and The Bold" – Parts 1-4.
Writer: Liam Sharp
Artists: Liam Sharp & Romulo Fajardo Jr
I'm into the fantasy genre like bats are into belfries. When The Brave And The Bold, with DC heroes traversing Celtic moors, appeared, I had to have it. I only discovered the mini-series featuring Batman and Wonder Woman teaming up in the distant realm of Tir Na Nóg just a week ago.
I got myself caught up immediately.
From the start, you're drawn in by the beautiful artistic vision of Liam Sharp. At first glance the images look like illustrations from out of a classic by C.S. Lewis, yet looking closer, the details beat you over the head.
The twisting forests and floating structures when Wonder Woman is led through the portals between worlds just pulls you through with her. The first few scenes with Batman in the cave clearly show color artist Romulo Fajardo's great choices, with the green hues over the contorted computers Batman works with.
Managing the Myths
Comic readers are used to panel storytelling. In this series, the swirling patterns you'd expect in ancient Celtic religions split up the action as the mystery unfolds; a perfect choice by Sharp. One scene in the most recent issue, retelling the history of the realm, is done entirely with paintings. It's been handled masterfully. As the queen talks about figures of history, the paintings look like true oil on canvas, right there in front of you. It's a strong moment and perfect blend of art and text, which is what great comic-book storytelling is all about.
Throughout the story, many references to ancient Celtic myth and religion are mentioned, and all appear pretty accurate. They rightly refer to Morrígan as a threefold entity (like the fates from Greek myth), and the presence of Balor, both in the story, and as the looming figure at the end of issue 3, make the threat all the more real.
Conclusion
If you need an entry point to reading Batman, coming from reading fantasy, then read this. If you need an entry point to fantasy, from a lifetime of reading Batman, then read this. If you need to escape this world, and seek to visit realms of wonder and danger, like the hermit in the park… then read this.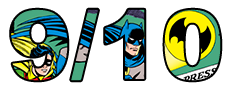 Images Courtesy of DC Entertainment