Film Review: Batman: Gotham By Gaslight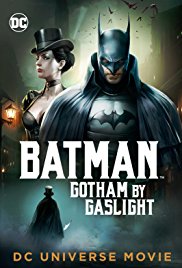 Writer(s): Jim Krieg
Artist(s): Bruce Greenwood (Batman / Bruce Wayne), Jennifer Carpenter (Selina Kyle), Chris Cox (Father Callan), John DiMaggio (Chief Bullock / Big Bill Dust / Additional Voices), David Forseth (Cyrus Gold), Grey DeLisle (Sister Leslie / Jason / Additional Voices), Anthony Head (Alfred Pennyworth), Bob Joles (Mayor Tolliver), Yuri Lowenthal (Harvey Dent / Additional Voices), Lincoln Melcher (Dickie), Scott Patterson (James Gordon), William Salyers (Hugo Strange / Judge), Tara Strong (Marlene Mahone / Tim), Bruce Timm (Arkham Radio Man), Kari Wuhrer (Barbara Gordon / Pamela Isley)
Producer(s): Alan Burnett (co-producer), Sam Liu (producer), Matthew Mahoney (associate producer), Amy McKenna (line producer), Benjamin Melniker (executive producer), Sam Register (executive producer), Bruce Timm (executive producer), Michael Uslan (executive producer)
In 1989 DC Comics released a Batman graphic novel. But it wasn't any ordinary book. This book had the Dark Knight of the 19th century facing off against the notorious serial killer Jack the Ripper. Gotham by Gaslight is considered the first DC Comics book of their acclaimed Elseworlds series. Here superstars from the DC Universe were given different settings akin to Marvel's What If… books. When DC started their original animated films, Gotham by Gaslight was a top pick among fans to be adapted into a feature. Last week, their wish was fulfilled.
There has never been a better time for this film
If you are in Los Angeles on February 5, you may be able to catch the premiere of Batman: Gotham By Gaslight on the big screen.
Batman: Gotham By Gaslight has several similarities to its written counterpart. To have a full 75-minute film, Jim Krieg added some elements to the story. This process was the same process used in the 2016 release Batman: The Killing Joke. Unlike that film, the additions employed in Batman: Gotham by Gaslight are a welcome presence. The plot does not feel forced like The Killing Joke.
Bruce Greenwood does a splendid job of Bruce Wayne and Batman. He's had plenty of practice since voicing the character in Batman: Under The Red Hood and two seasons of Young Justice. Let's hope he returns to reprise his role in Young Justice: Outsiders. Joining Greenwood is Jennifer Carpenter. In light of recent activities, Carpenter's Selina Kyle is also an appropriate and much-needed part of this film. I won't give away any spoilers for this review. You MUST see this movie.
Batman: Gotham By Gaslight is set in 1889, but it still touches on topics like equal rights, racism, and abuse. It justly earned its R-rating for those reasons. Krieg has turned in a top-notch script, and the cast turns in a high tier performance.