"Surprise, Surprise" Part One
Writers: Jimmy Palmiotti, Amanda Conner, Paul Dini
Artists: Chad Hardin, J. Bone, Bret Blevins
(Minor Spoilers Ahead)
Nothing new to read here. Harley Quinn #25 continues what has been a fun, humorous ride from Jimmy Palmiotti, Amanda Conner and Paul Dini.
What has been haunting the title for many issues now is the mayor's cover up of the homeless cannibal situation. That picks up in the opening pages, as Harley helps pass time with a perverted man in a sauna (he's a good guy, but still uncomfortable). They finally leave the steam room, heading back to her place for his surprise birthday party…except it's actually for her. What follows is a lot of friendly conversation, flirting, and a game of "grab in the dark". However, they don't get to play. The party gets crashed by a special unit hired to take out Harley and her friends. The main story ends with the antihero kickin' ass and taking names.
What a fun issue. Like I've already said, no surprise there. This book has been one of the most bankable in all of DC's titles. My favorite version of the character has been, and always will be, Arleen Sorkin's version from Batman: The Animated Series. The Harley I'm getting to know in this book, however, has crept toward that number two slot. Palmiotti and Conner didn't create the character, but they understand her. She's fun, smart, loyal and has a good heart. However, when she gets pissed off, all bets are off. That's what fans love about the character, and the writers know it too.
Chad Hardin takes on artistic duties in this issue, and I can't even tell. Every issue I've reviewed has looked like a colorful cartoon, and it's so enticing. I thoroughly enjoy the many different styles in comic books these days. There's extremely detailed books, sketchy books, exaggerated books, you name it. But there's nothing wrong with a comic book that looks, feels and acts like a comic book. That's what the artists are doing in Harley Quinn.
The backup book is once again written by Palmiotti and Paul Dini. "Joker Loves Harley" is a romp, full of B:TAS vibes in every panel. Not too much ground is covered, other than the fallout of the Joker finding the new hideout Harley had built for her, and her struggle to pay for it. It's so fun and you can hear Arleen Sorkin and Mark Hamill in your head while reading. Sadly, this seems to be the last backup BUT it appears to be spinning off into its own series later this year. Hooray!
Conclusion
Yet another enjoyable issue. Harley Quinn delivers action, humor and fun as well as a few cameos of some favorite DC characters. If you're not on board yet, what are you waiting for!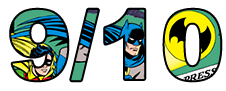 Images courtesy of DC Entertainment