Dick Grayson. Nightwing. Two names that pertain to one of the most influential and "good" characters in the DC Universe…until now. Exciting news dropped today in the form of a new series announcement; Nightwing: The New Order. What exactly is this new order I hear you asking? Read on and find out! Below is the official release and further below that are juicy details!
NIGHTWING: THE NEW ORDER is the story of a future world without "weapons"—where superpowers have been eliminated and outlawed. The man responsible? None other than Dick Grayson, a.k.a. Nightwing, now leader of a government task force called the Crusaders who are charged with hunting the remaining Supers. But when events transpire which turn the Crusaders' aim toward Grayson's own family, the former Boy Wonder must turn against the very system he helped create, with help from the very people he's been hunting for years—the last metahumans of the DC Universe.
It's safe to say that making well-established heroes into villains isn't going to be popular with fans (just look at Captain America Hydra), but that's not entirely what's happening here. The miniseries will be set more than a decade in the future and won't interfere with any of the current Rebirth Nightwing happenings. It's also said from the get-go that Dick will come to realize the error of his ways, but by then will it be too late? It's certainly an interesting idea, but it leaves a lot of questions, the main one being: is this in-continuity? Our best guess is no. The series opens with Superman dying "12 years ago," so it's highly  unlikely that this will be taking place in the current Rebirth timeline.
This series will be written by none other than Kyle Higgins, who some fans may know as the scribe behind the New 52 Nightwing series, as well as for his work on series like Batman Beyond 2.0 and Batman Eternal. If anyone was the perfect fit for this series, it's Higgins; with all of this experience of writing alternate future tales within in the Bat-family, this New Order sounds right up his alley!
Joining Higgins on art will be Trevor McCarthy, an artist who got his start with DC back in the early 2000s on – you guessed it – Nightwing. He has collaborated with Higgins before, so this pairing seems like a sure-fire way to draw people into this potentially divisive new series. Also joining Higgins and McCarthy will be Dean White on colors and Clayton Cowles on letters. But that's not all. This announcement didn't just come with details – it came with the covers for the first two issues and a 5 page preview of issue one! Noticeably absent from the preview is Batman, but I have a sneaking suspicion we will see him soon enough. It's also worth noting that the covers look a lot like propaganda posters, which suits the theme this books seems to be going for. You can check those out below!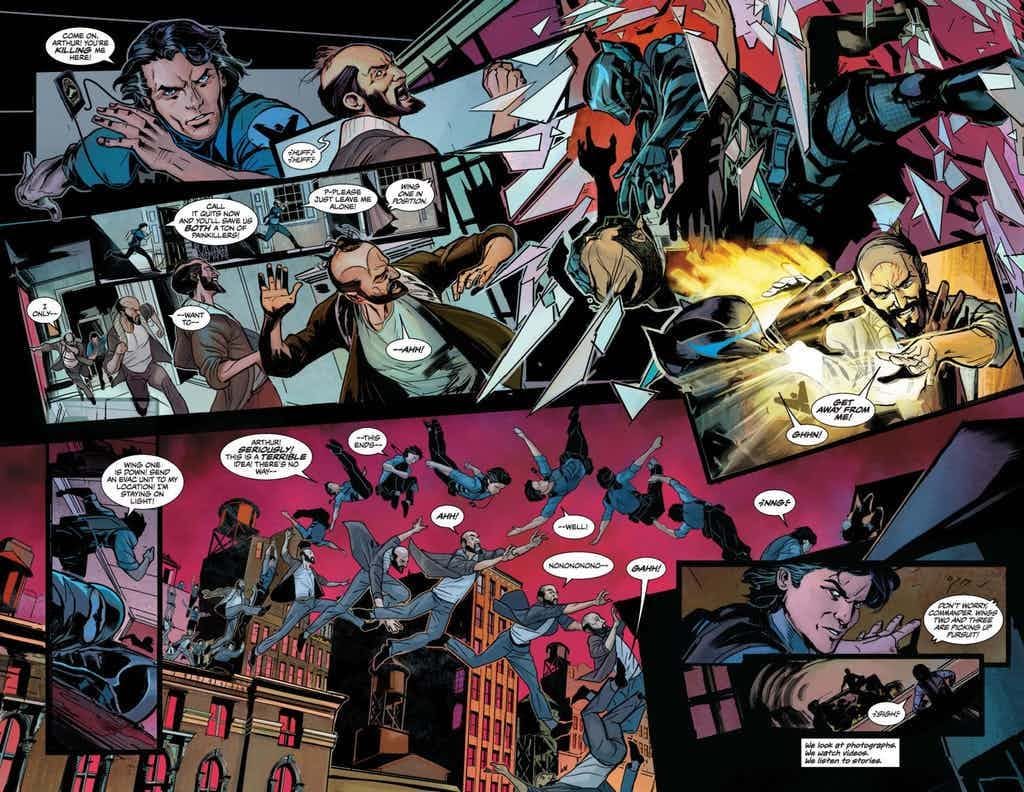 What are your thoughts on this new Nightwing series? Excitement? A sense of betrayal? Let us know with a comment down below!
Nightwing: The New Order #1 goes on sale August 23, 2017.
Save
Save