"The Rise of Aqualad," Part 1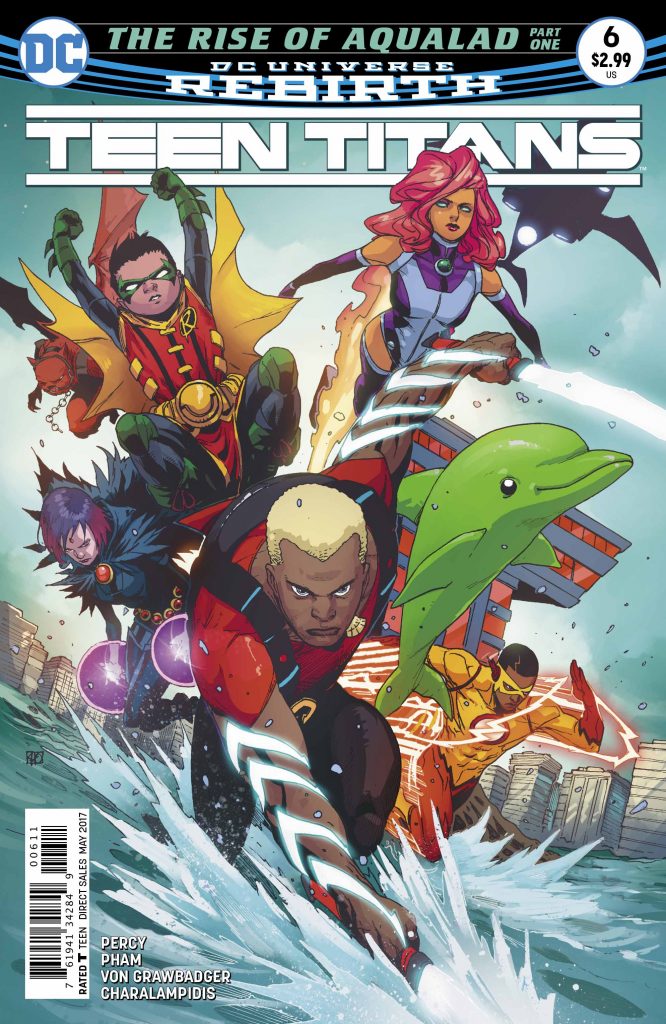 Writer: Benjamin Percy
Artist: Khol Pham
Teen Titans #6 continues its expression of Ben Percy's wry wit. The banter is outstanding. The characters are so diverse their interactions seem incredibly fun and, most importantly, unforced. The dialogue reads as a normal conversation between teenaged friends.
The story opens with a newscast informing viewers fifty inmates have broken out of the maximum security Del Sur Penitentiary, north of San Francisco. And, also offers the ominous statistic that shark attacks are up 400%.
Always one for the spotlight, Garth invites KARE 7 News reporter, Bonnie Chung–an all-too-ridiculous play on the name of a real-life reporter from the 1980s-90s–to interview the team at Titan Tower. Eventually, Chung plays a far different role in the story!
The real story here, however, is the re-introduction of Jackson Hyde—Aqualad. Jackson is living in New Mexico with his mother. Through some interesting dialogue, readers are led to an intriguing discovery. His mother lets slip that she's made a promise to someone to ensure his safety. She plays it off, saying it was made to herself – but readers know different. Will Percy lean into the continuity of Hyde being Black Manta's son, or will there be a shocking twist ahead? My money is on continuity.
Another interesting angle in Teen Titans #6, is that Jackson Hyde's character is gay. This isn't new, and fits within the continuity of DC's 2011 reboot. It does, however, create tension in his relationship with his mother, who worries it might draw undue attention to him. Tension, it seems, follows young Jackson. Hyde reveals his power to his boyfriend, who abruptly freaks out and leaves. Jackson sees the Titans on the news and longs for the sort of independence they seem to enjoy.
Lastly, Teen Titans #6 wraps by revealing an interesting villain. Re-reading the comic after the reveal caused clues to leap off the pages and panels I had neglected before. I really enjoyed tracing the bread crumbs!
Conclusion
Teen Titans #6 sets up the addition of Aqualad to the Titans. Aqualad is a classic member of the squad, but Jackson Hyde's character lends depth and diversity to this already eclectic team. It will be interesting to see how Percy and company utilize this in the future. In addition, it remains to be seen whether this signals an impending face-off between the Titans and Black Manta. That would make for an excellent story, but would challenge Percy to come up with something readers haven't seen before.
Teen Titans #6 was fun and well-paced with good depth and character development. This will bode well for future narratives and give Percy plenty off choices and opportunities to work with.
Images courtesy of DC Entertainment.