Batman and Mutant Leader Page Punchers are now available to order as a double pack from McFarlane Toys, including a reprint of the first issue of one of the most important and relevant comic book stories ever, Batman: The Dark Knight Returns (1986).
It's difficult to name many Batman tales as famous and as well-regarded as TDKR. Even in this golden age of comic book adaptations where classic stories from both the DC and Marvel stables are being brought into public awareness at an alarming rate, writer and illustrator Frank Miller created a self-contained version of a future Batman story still gets name-checked whenever the Dark Knight appears in a new production. Even in the upcoming The Flash (2023) movie, the sight of Michael Keaton – who is now in his seventies – in the Batsuit, had people talking about TDKR just as much as the Flashpoint story that the film's inspired by.
That's because the saga also finds an older Bruce Wayne retired from the role of Batman. In Miller's tale, the former hero's in a dark place, mourning the death of his Robin, Jason Todd, and drowning his guilt in alcoholism and nihilism bordering on a death wish. Enter The Mutants – a gang of homicidal maniacs terrorizing Gotham City. Their extreme violence draws Bruce out of retirement and puts him on a collision course with the gang's Leader.
While the story also includes classic villains such as the Joker and Two-Face, it's the Dark Knight's battle with the newly introduced Mutant Leader in the early stages which is significant. He represents the ruthlessness of the new era of criminals and provides Bruce with a painful reminder of his physical limitations now that he's older. After their initial battle, Batman's left in no doubt that the world has changed since he last donned the cowl.
It makes their pairing for this double pack an inspired choice. Considering that the release is in McFarlane Toys 3″ range (see here, and here for our reports on other 3″ releases), the sculpts capture Frank Miller's interpretations perfectly, with the chunky, granite-jawed Batman in wrinkled Batsuit (no armour yet!) featuring the huge bat symbol across his chest and those recognisable pouches around his belt. The Mutant Leader is imposingly muscled and slightly larger than the Dark Knight.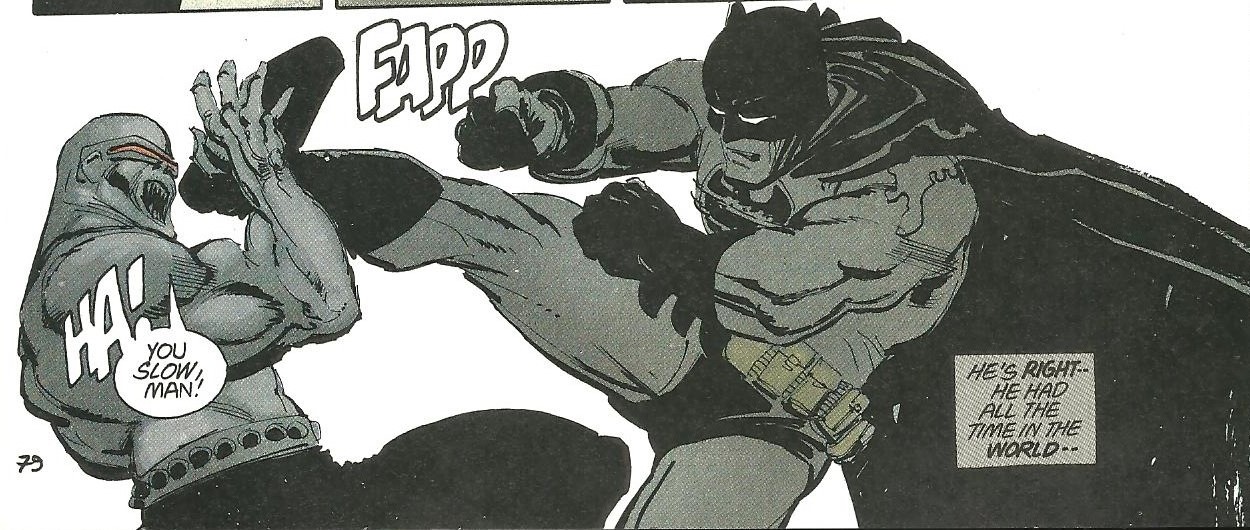 Originally a four-issue series, the first is a must-have not only because it was subtitled with the famous title The Dark Knight Returns (with the others The Dark Knight Triumphant, Hunt the Dark Knight, and The Dark Knight Falls), but it also featured the famous cover image of a leaping Batman silhouetted by a lightning strike. Considering that a first printing will fetch you back well over a hundred bucks, the reprint included with this double pack represents significant value.
The 3″ line has great crossover appeal. With less articulation than the 7″ range, coupled with their smaller size, makes them durable for the rough-and-tumble play that kids put their action figures through. At the same time, they're great for collectors because they scream retro fun, harkening back to the heyday of action figures in the eighties. With Frank Miller's classic arriving with a bang in the mid-eighties, The Batman and Mutant Leader Page Punchers are a perfect mix of modern retro.
The 3″ two-pack is available now from McFarlane Toys.
Batman and Mutant Leader Page Punchers – Product details:
Batman: As a child, Bruce Wayne watched as his parents were brutally killed in Gotham City's Crime Alley. Traumatized by their deaths, he devoted his life to becoming the world's greatest weapon against crime, the Batman! He's a master detective and an expert martial artist, but his greatest weapon is his mind. Batman has a plan for every occasion, as well as high-tech weapons, gadgets, and vehicles to assist him in his relentless pursuit of justice! Now, after 10 years in retirement, Batman returns!
Mutant Leader: Ten years after Batman's retirement, a gang of violent criminals, calling themselves the mutants, stakes a claim on Gotham City. Unfortunately for them, the Dark Knight is about to prove that these streets are under his protection!
Packed with two pocket sized hero or villain at a 3″ scale based on the DC Multiverse.
5 points of articulation to Punch and Kick.
Batman and Mutant Leader are based on their iconic comic book look.
Comes packaged in an a blister pack with an English only reprint of your favorite comics that the figures are based on.
Collect all additional McFarlane Toys DC Page Punchers Today!
Images and press release courtesy of McFarlane Toys