"Failsafe" – Part Five
Writer: Chip Zdarsky
Artists: Jorge Jimenez & Leonardo Romero
Color Artists: Tomeu Morey & Jordie Bellaire
Letterer: Clayton Cowles
Review by Max Byrne
Batman #129 takes the action from the depths of the ocean all the way to outer space! Chip Zdarsky sure knows how to take the story to places far beyond the streets of Gotham City and into places far away from Batman's home turf.
It's a very clever narrative decision as it helps to showcase that Failsafe can get to you wherever in the world (or off it) you may be. This makes him an even more formidable and downright scary adversary, as it seems like this Terminator-esque creation simply cannot be stopped, ever!
Regular readers will remember from the previous issue, that Batman had taken refuge in Atlantis, recovering from the brutal assault dished out by Failsafe and trying to formulate a plan of action. It's intriguing to see here that even a strategic genius like the Dark Knight's flying by the seat of his pants, trying to keep one step ahead of the opposition, something he BARELY manages to do throughout this issue.
All this adds to the tension and sense of foreboding. If even Batman's methods just seem to be delaying the inevitable unhappy ending then things are bleak indeed. Instead of moving himself into an advantageous position, he's running scared. How many times have we seen Batman in this predicament? Honestly, there aren't many that spring to mind.
I'm running out of superlatives to describe the artwork being provided on a monthly basis by Jorge Jimenez. In my humble opinion, he's one of the very best in the business today. Whoever the writer is, Jimenez always manages to be the perfect artistic foil for them.
This is an artist capable of deft, subtle moments to go with all the explosive bombast. He's delivering the goods on DC Comics' flagship title with huge aplomb. Indeed, the final page of this issue is a single panel that will live long in the memory. Of course, no spoilers here, but Jimenez depicts Batman in a perilous situation that we've rarely, if ever, seen him in before. It certainly makes the release of Batman #130 one hell of an eagerly anticipated event!
Failsafe is a genius creation. With all of Batman's intellect, tactical genius, and combat prowess but without any of his physical limitations or moral breaking point, this is a truly terrifying character. The way in which he has dealt with the best that the Justice League has to offer shows just how formidable he is.
Whilst keen readers know that Batman will always find a way to overcome the most overwhelming of odds, I'm struggling to surmise a way in which he wins here! Based on the information given already about Batman #130, the fallout is going to be far-reaching.
Conclusion
Batman #129 is a thrilling read that perfectly tees up the next issue's conclusion to the Failsafe arc. It perfectly highlights the sheer unstoppable nature of the character and his almost invincible aura. Whether it proves to be the final curtain for the character remains to be seen, but I hope we get to see more further down the road.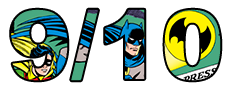 Images Courtesy of DC Entertainment