"Catwoman: Lonely City" – Book Four

Writer, Artist, Color Artist, Letterer: Cliff Chiang

Review by Adam Ray

Catwoman: Lonely City #4 continues to showcase Cliff Chiang's powerful skill at creating comics. We get a sustained look at the bleak future of a Batman-less Gotham, set to soft and calming colors and richly developed characters.
The consistency with which this story has been told has been as deep and rewarding as the tale itself.
Creating an entire Black Label title by yourself can't be easy, but somehow Chiang has been able to deliver an entire team's worth of work. We get his design talent shown off in the lettering of one of my personal favourite characters in this issue. It's clear that his grand magical history would be something else, just with how he talks, and the difference in font and speech balloon color, but it's just as worn down as the rest of this bleak future setting. Every element in the comic is telling Chiang's story.
There's something a little tragic about any vision of the future that sees Zatanna having to become a Vegas magician, seemingly full-time, instead of rolling with Justice League Dark. This look into Gotham's future feels so lived in, so the changes seem realistic and justified. What we have here is a heavy critique on our own world, instead of an idealistic future, or the techno-nightmare world of Batman Beyond. While there have been many like this before, few have done it so well.
Conclusion
Catwoman: Lonely City #4 treats us with stunning color visuals, set to a grim look at how things could be. The book gives those readers who know this world another way to think about things, whilst also remaining true to all the premises that made the story possible. This unique mini-series rounds off with a vision of peace and potential, but also with the satisfying resolution it deserves.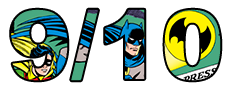 Images Courtesy of DC Entertainment