Writer: Tom Taylor
Artists: Trevor Hairsine and Andy Lanning
Color Artist: Rain Beredo
Letterer: Saida Temofonte
Review by Steve J. Ray
When this final DCeased series was announced, back in May, I jumped for joy. From the day I guessed that Tom Taylor's teases for the original series showed Darkseid solving the anti-life equation (over three years ago, now), I've loved every single issue and arc that's followed. Now, with the release of DCeased: War Of The Undead Gods #1, the epic super-zombie saga reaches its ultimate conclusion.
This first issue has already pleased me greatly. Even though I truly thought that the story had ended with DCeased: Dead Planet, Tom Taylor's clearly been hiding a couple of cards up his sleeve. Where's Supergirl in this reality? What happened on New Genesis and Apokolips, after Darkseid unleashed the undead techno-plague that is the anti-life equation?
The answers come thick and fast, and they will shock and surprise you.
Of course, the DCeased stories haven't always been all about blood, violence, blood, gore, doom, and gloom (though those are very prominent, favorite components of each installment). Every different chapter has also brought hope, joy, and the promise of a brighter tomorrow. The end of Dead Planet saw the return of heroes everyone thought were impossible to save; this issue does the same again… and then some. Hope is back, alive, and well in the biggest way possible.
As always, the art in this book is every bit as great as the script. I've been a Trevor Hairsine fine since before he even started working for DC, so seeing him return to conclude the saga he started with Tom also makes me very happy. His pencils have an edge and grit to them that I just love, and when inked by stellar talents like Andy Lanning (another gentleman I've been a fan of for decades) and colored by DCeased mainstay, Rain Beredo, the art just sings (or possibly, screams).
Saida Temofonte's letters complete the issue, as her work has also given this entire sage a very distinct look and feel. Her sound effect designs have always been some of my absolute favorites.
Fans of Jon Kent, Damian Wayne as Batman, and Cassie Sandsmark's all-new Wonder Woman won't be disappointed. Plus, Green Canary's one of the most inspired characters that the DCeased saga has spawned.
In case you hadn't guessed, I loved this issue.
Conclusion
DCeased: War Of The Undead Gods #1 starts the final chapter of the saga with a bang. We get action, violence, and a ton of emotion; tears of pain and regret, as well as those of joy. I'll be buying every issue, and picking up the hardcover collected edition too, just so that it can join its predecessors on my bookshelf.
Highly recommended.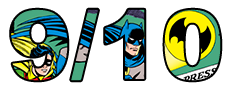 Images Courtesy of DC Entertainment